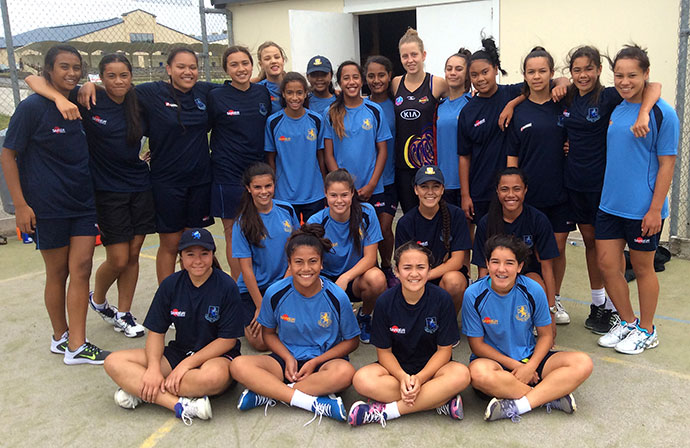 The MAGS Netball Academy was set up in 2000 by former Silver Fern Bernice Mene, and was designed for Year 9-10 girls. It was later led by former Silver Fern and New Zealand age group coach Te Aroha Keenan, and is now overseen by Sarah Hann, who coached MAGS Premier Netball to a National title in 2018 and has been an Auckland Representative Coach.
This wealth of knowledge has seen the growth of netball at the school, with players like Maria Tutaia, our first Premier Captain in 2004 and a key member of the Silver Ferns, continuing with the sport to a high level after leaving school.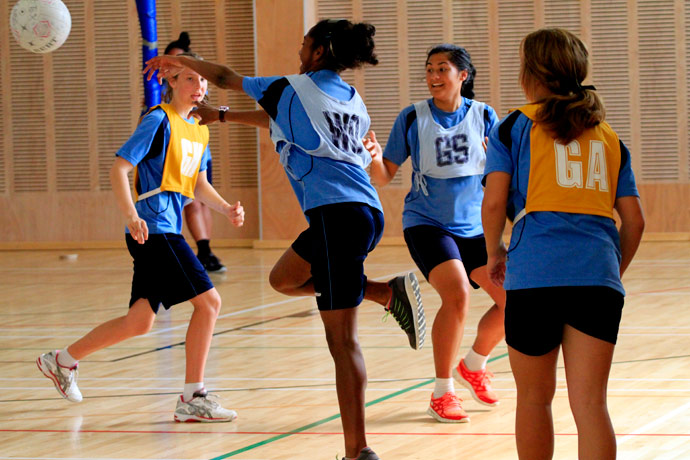 Sarah Hann coaches the Premier team, winners of the New Zealand Secondary Schools Championship in 2010, 2012, 2013, 2014, 2015 and 2018.
In Year 9, students selected for the Netball Academy have two practical lessons per week with some basic theory work relating to rules, umpiring and game analysis.

The Year 10 Netball Academy class have two practical sessions and one theory session per week covering rules, nutrition, fitness, skill acquisition and development, and game analysis.

MAGS' 2015 Premier Netball team (below) had an outstanding season. They were the Auckland Champions, Upper North Island Champions for the ninth consecutive year, National College Netball Champions for the fourth consecutive year, and New Zealand Champions for the fourth consecutive year. The team has played in the past nine national finals in a row, narrowly missing out on the 2016 title by one goal.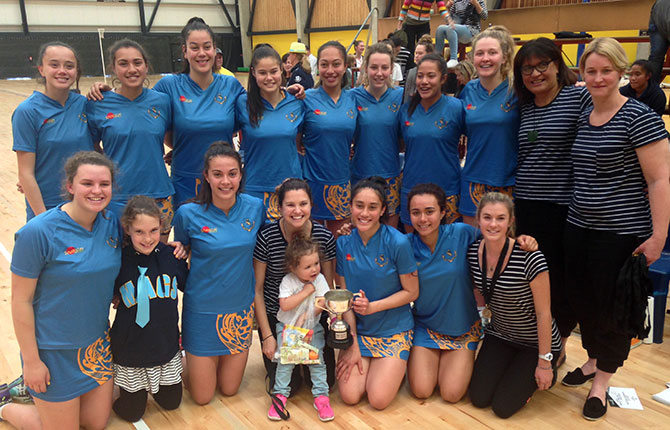 Many girls have gained representative honours over recent years – Maia Wilson was selected for the Silver Ferns in 2016, her first year out of high school when she went straight to a contract with the Central Pulse. 2015 Captain Holly Fowler is in the NZ Under 21 team and went straight to a contract with the Northern Mystics. For the 2017 season the players have reunited to represent the new Northern Stars franchise.
Jamie-Lee Price, 2013 Premier Captain, went on to play for the Waikato/Bay of Plenty Magic, was selected for the Fast5 Ferns in 2014 and is now continuing her career in the Australian league.
Other MAGS players currently playing in the ANZ Championship are Tera-Maria Amani (Mystics) and Erikana Pederson (Mainland Tactix).
Year 13 student Lahaina-Lee Upu-Toparea and 2016 Premier Captain Elle Temu have been selected into the Northern Marvels Beko National League squad, coached by Paula Smith. The Beko National League is a transitional competition into the ANZ Championship.
Lahaina-Lee has also been called into Mystics training sessions alongside former MAGS player and Silver Fern Maria Tutaia, and is in the NZSS squad for 2017.
For more information about the Mount Albert Grammar School netball programmes, please contact: