Year 9 students Hannah Adye and Luke Clements won Silver and Bronze respectively at the NZSS Athletics Championships held in Hastings from December 1-3.
Hannah won Silver in the Junior Girls Pole Vault with a vault of 3.40m. Luke won Bronze in the Junior Boys 2000m Steeplechase in a time of 6.33.05
Other top 10 finishes were:
Paige Witehira: 5th Senior Girls Javelin with 36.08m
Max Brooke-Cowden: 6th Senior Boys 200m in 22.75 seconds
Hannah Houghton: 7th Senior Girls 4km Road Race in 15.01 minutes
More than 1400 athletes from around New Zealand competed at the championships.
The Open Girls 4x 400m Relay team came from behind to take Silver.
Mt Smart Stadium
Tuesday, 21 March, 2017
MAGS athletes won three Gold medals, three Silver and a clutch of Bronze at the 2017 AKSS Championships.
45 students were selected and together brought home 12 individual medals and three relay medals. Most athletes achieved personal bests. Stand out performances came from the Senior Girls group, with Maddy Gordon winning four medals and Grace Jale gaining three.
Click here for all MAGS results
Click here for all MAGS results
| | | |
| --- | --- | --- |
| Gold Medals | Silver Medals | Bronze Medals |
| Sylvia Brunt - Discus | Mia Gordon - 3000m | Luke Clements - 3000m |
| Kalisi Longopoa - 80m Hurdles | Paige Witehira - Javelin | Maddy Gordon - 400m |
| Dylan Moon - 100m Hurdles | | Maddy Gordon - Triple Jump |
| | | Grace Jale - 800m |
| | | Grace Jale - 1500m |
| | | Latonya Lole - 100m |
| | | Drays Simone - Discus |
MAGS' 3000m girls, in blue from left, Holly Bannister, Mia Gordon and Hannah Houghton.
Trusts Stadium, 28 February, 2017
MAGS athletes claimed 19 1st places, 22 2nds and 20 3rds at this year's Central-West Zone Championships.
All three top places in the Intermediate Girls 3000m were won by MAGS – Mia Gordon was 1st, Hannah Houghton 2nd and Holly Bannister 3rd. Six of our eight relay teams won their races, qualifying them for the AKSS Championships on 21 March. Places were gained in a variety of track and field events, by boys and girls of all age groups.
70 students represented MAGS against those from 27 other schools. 31 have so far qualified to compete at the AKSS Championships, with more possible.
Click here for all MAGS results
Click here for all MAGS results
Six new records were set at the biggest ever MAGS Athletics Day at Mt Smart Stadium on Wednesday, 22 February.
In Senior Girls, Grace Jale set a new 800m record with a time of 2.27.91, while Paige Witehira (right) set a new Javelin record with a throw of 37.17m. In Intermediate Girls, Mia Gordon set two new records in the 1500m and the 3000m with times of 5.25.84 and 11.19.38 respectively. In Junior Boys, Luke Clements set a new 3000m record of 10.44.00; and in Junior Girls, Sylvia Brunt set a new Shot Put record with a throw of 11.30m.
More than 350 students took part in a wide range of track and field events, some socially, some as serious competitors.
Click here for the list of top competitors
Click here for the list of top competitors
Click here for full results
Click here for full results
MAGS' Junior Girls Road Race team won Gold at the NZSS Athletics Championships on Saturday, 3 December.
Pictured above from left, Theane van Zyl, Holly Bannister and Hannah Houghton competed in the 4000m team event at Moir Park in Massey. The girls placed 11th, 14th and 16th, and when their places and times were combined they were awarded 1st place.
The girls competed against teams from 18 other schools from around New Zealand. New Plymouth Girls High School won Silver and Wanganui Collegiate claimed Bronze.
In other results, Paige Witehira won Silver in the Senior Girls Javelin with a personal best of 39.67m, and Kalisi Longopoa won Silver in the Junior Girls 80m Hurdles in a time of 12.24 seconds.
Click here for the full list of results
Click here for the full list of results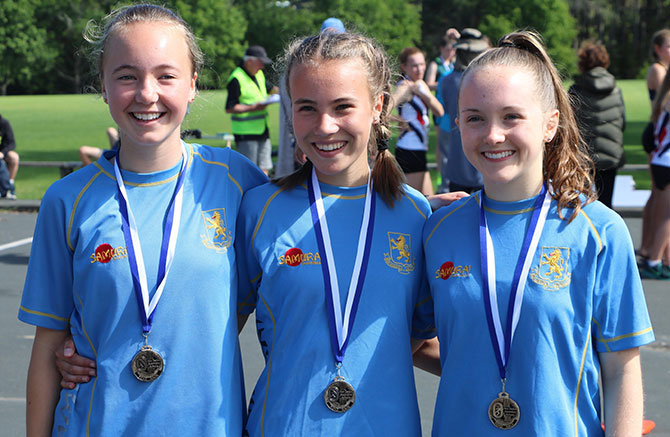 North Island Secondary Schools Athletics Championships
Mt Smart, April 1-3, 2016
MAGS had nine athletes selected to represent Auckland at the North Island Champs held at Mt Smart for the final meeting of the summer season. Of the nine athletes, Kalisis Longopoa achieved the best results, winning two North Island titles. She won the Intermediate Girls 80m hurdles in a smart time of 12.14s and was the lead-off runner for the Auckland 4x 100m relay team that won the final.
The other MAGS athlete to gain a top three finish was Paige Witehira, who came third in the Intermediate Girls Javelin. Her throw of 35.43m was just below her personal best and had her in second place for much of the competition. To back up this third placing she was also near the top end of the field in the triple jump, finishing 6th with a jump of 10.02m.
Nikola Vikena, competing in his first big Secondary Schools competition showed considerable promise in the Junior Boys 200m. He worked his way into the final where he placed 4th with a personal best time of 24.65s.
Two other athletes, also competing in their first North Island Champs competition, gave strong showings in their respective finals. Hannah Houghton chopped about 11seconds from her personal best in the 3000m to run 11mins 12.12s, finishing 6th. Whilst Latonya Lole got the discus out to a 26.66m personal best in the Junior Girls final to also finish 6th.
Dylan Moon made the final of the Intermediate Boys 100m hurdles where he placed 7th, with his fastest time of the weekend being 15.08s in the heats. He also contested the high jump where he placed 14th with a clearance of 1.65m.
Janelle Kara did well to finish 8th in the Intermediate Girls long jump, where she was hampered by a lower leg injury. Her jump of 4.73m was below her best, but she gave everything she had on the day and will be even more competitive next time when she recovers from her injury.
Maddy Gordon was unlucky to miss the final of the Intermediate Girls 400m, finishing 9th overall in the heats only 0.26s away from qualifying as one of the 8 finalists. She ran 62.43s to show considerable promise after a limited build-up for this competition. As well as her individual event she ran the 4x 400m relay, anchoring the Auckland team that finished 7th in the final.
Theane Van Zyl placed 4th in her heat, running 2mins 31.50s in the Junior Girls 800m. Her time was very close to her personal best and she was only 3 seconds away from making the final in her first outing at this level of competition. As with all the athletes at this competition, she will have gained from the experience and will be looking forward to improved performances at the Nationals at the end of the year.
Click here for all MAGS results
Click here for all MAGS results
MAGS' athletes made frequent visits to the medal podium during the AKSS Championships at Mt Smart on Wednesday, 23 March.
Track highlights: Caleb Clarke: 1st SB 200m, 2nd SB 100m; Niven Longopoa: 1st SB 110m Hurdles, 3rd SB 100m; Nikola Vikena: 2nd JB 200m; Maddy Gordon: 3rd IG 400m; Hannah Houghton: 3rd IG 3000m; Kalisi Longopoa: 2nd IG 80m Hurdles; JB 4 x 100m Relay: 3rd; IB 4 x 100m Relay: 3rd; Open Girls 4 x 400m Relay: 3rd
Field highights: Latona Lole, 3rd JG discus; Niven Longopoa, 1st SB long jump; Paige Witehira, 2nd IG triple jump and 3rd IG javelin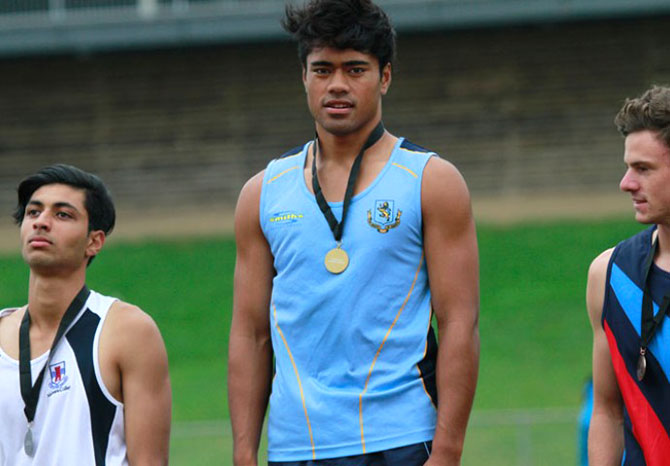 Niven Longpoa won Gold in the Senior Boys' 110m Hurdles and Long Jump and Bronze in the 100m