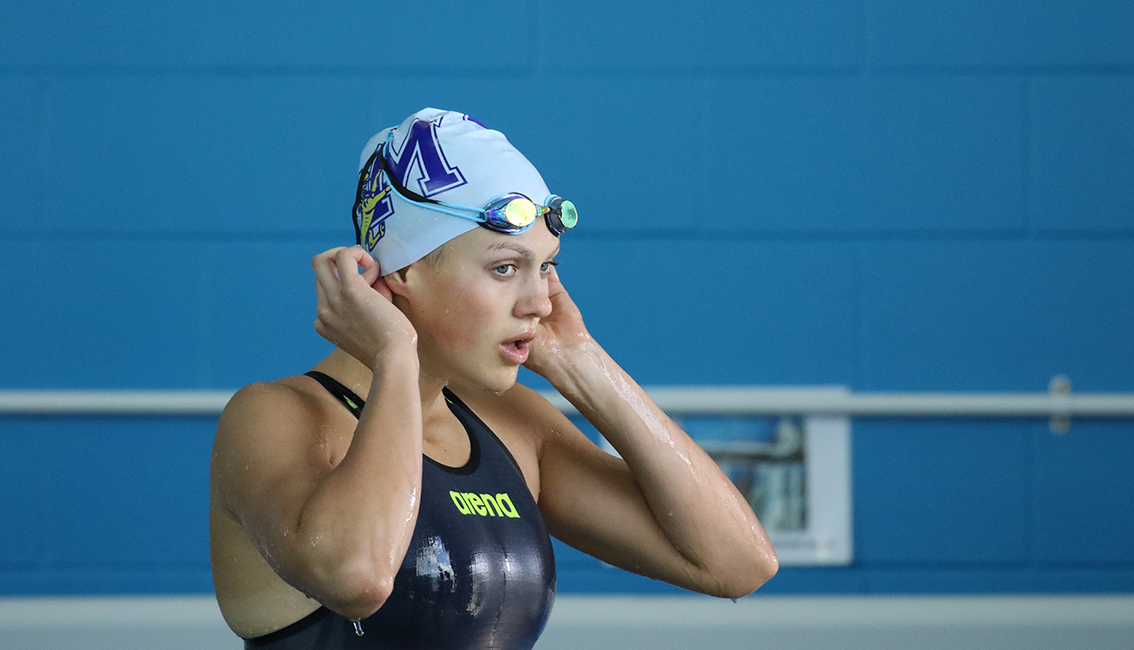 World Junior Championships-bound swimmer Brearna Crawford (above) led the way and rewrote the record books with outstanding early season form at the annual Evolution Swim Meet held in Hamilton.
Brearna become New Zealand's fastest female short course (SC) 100m Breaststroke swimmer when she broke the NZ Open Record in a classy time of 1.07.14sec. Brearna continues her preparation and will leave on August 6 for a 10-day preparation camp in Vienna before competing at the 2019 FINA World Junior Championships in Budapest, Hungary.
Brearna set nine other records at the meet: two NZ records for 16 years (100m Breast, 100IM), two Auckland Open records  (100m Br, 50m Br – 100 split), five Auckland 16 years records (50m Br, 100m Br, 200m Br, 100m IM, 200m IM) – and unofficially the 50m Fly.
The rest of the MAGS Swim Team also produced outstanding results with a high percentage of personal best times achieved at the meet.
The swim team are in the middle of some hard work. Many of them got very sick, however they showed MAGS resilience and grit to produce some great racing results.
The team was third overall on the points table behind two teams twice the size. This was an outstanding result from a small but talented young team. They will now prepare for Auckland Champs, NZ Secondary Schools and NZ Short Course Championships.
Swimmer
Medals
Gold
Silver
Bronze
Brearna Crawford

16yr (16yrs +)

 

6 Gold
50m Br | 100m Br | 200m Br 100m IM | 200m IM | 50 Fly Overall Champion | 16 /over Skins Champion
Bowen Crawford 15yrs (14-15yr)
1 Gold
1 Silver
1 Bronze
200m Breast
100m Breast
50m Breast
Vasilina Shipilova 17yrs  (16yrs +)
2 Silver
2 Bronze
100m Br | 400 IM
100m IM | 200 IM
Lucy Woodall

15yrs (14-15yrs)

1 Bronze
50m Fly
Quin Walden 14yrs (14-15yrs)
1 Bronze
100m Back
Joseph Nathan

17yrs (16yrs+)

1 Bronze
200m Back
Eddie Ancell

15yr (14-15yrs)

Injury withdrawal

1 Bronze
100 IM
| | |
| --- | --- |
| Finalist 4th – 5th | Finalists 6th – 8th |
| Bowen Crawford 100 IM | 200 IM | Amber George 200 IM |
| Hunter Dobson 100 Bk | 200 Bk |  Tito Tipi 100 IM | 50 Fly | 100 Fr | 200 Fr | |
| Amber George 50 Bk |200 Br | Joseph Nathan100m Bk |
| Vasilina Shipilova  50 Bk | 100 Fr | 200 Fr | 100 Bk | Quin Walden 50m Fr |200 IM |50 Fly |
| Quin Walden 50 Bk |  Lucy Woodall 200 IM | 200 Fr |100 Bk |
|  Tito Tipi 50 Bk |200 IM | 100 Bk | 50 Fr | |
|  Lucy Woodall 50 Bk | 200 Bk | 50 Br | 50 F | |
| | |
| | |
| | |