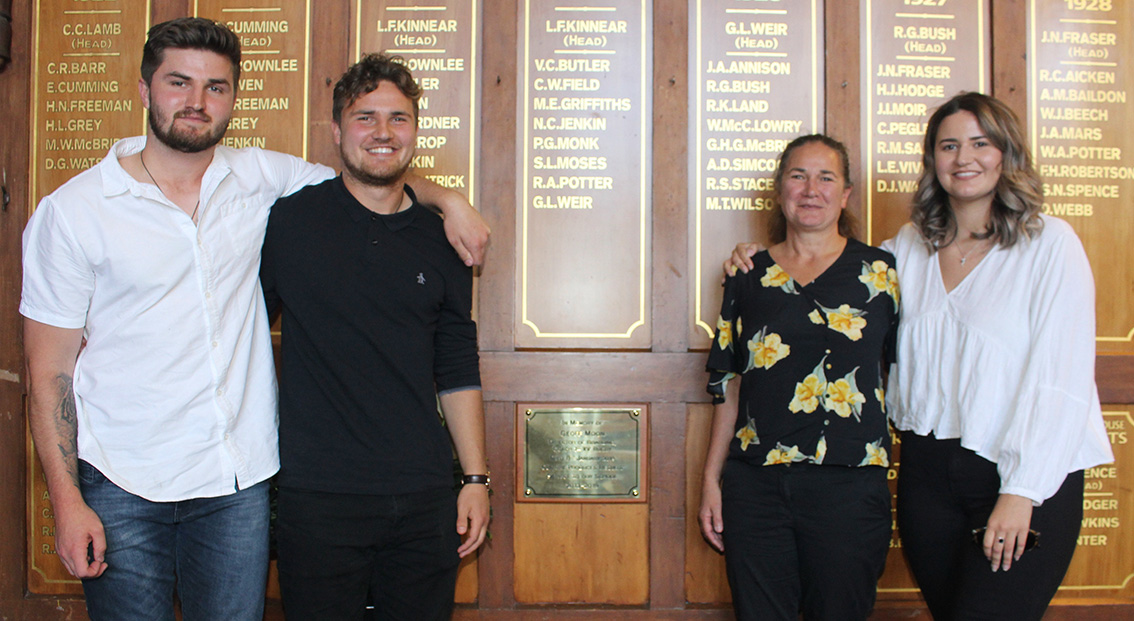 Geoff's wife Angela with children Sean, Dylan and Jess at the plaque ceremony.
MAGS commemorated the immense contribution to school life of former School House Director and 1st XV coach Geoff Moon by unveiling a plaque in his honour in the FW Gamble Hall yesterday.
At an intimate ceremony – at the request of Geoff's family – Headmaster Patrick Drumm paid tribute to Geoff, who passed away suddenly early last year.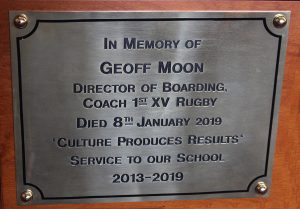 Mr Drumm said that Geoff was a dedicated and inspirational educator who had made a big impact on the school in his six years here.
He said unveiling a plaque to Geoff was part of an emerging school tradition of honouring serving staff who had passed away, and "Moonie is now a permanent part of our whare".
Geoff's plaque has the motto 'Culture produces results', and Mr Drumm said those words drove Geoff's approach to his teaching, coaching and mentoring through his time at MAGS and when they worked together at Aorere College.
Mr Drumm also introduced the Boys Choir, under the direction of Terence Maskell, who performed Sons of Gallipoli in Geoff's honour, saying that, being a music lover, Geoff would have loved the tribute.
Mr Maskell also spoke at the ceremony, recalling his years at Aorere College with Geoff and the debt of gratitude he owed him. He asked if Geoff could get some of his rugby players to sing in the Aorere choir, and soon it became a tradition that the 1st XV players joined the choir because Geoff could see the value in the culture and teamwork of a choir.
Mr Maskell said the choir became such a big part of the 1st XV that the coach would watch their practices and use that to inform his choice of team captain.
Speaking for the family, son Dylan said Geoff would have loved all the fuss over him – he would have tried to be humble about it but would have been taking photos of the plaque and showing it off. He thanked the school for the tribute and all it had done for the family.
You can read more about Mr Moon's legacy here