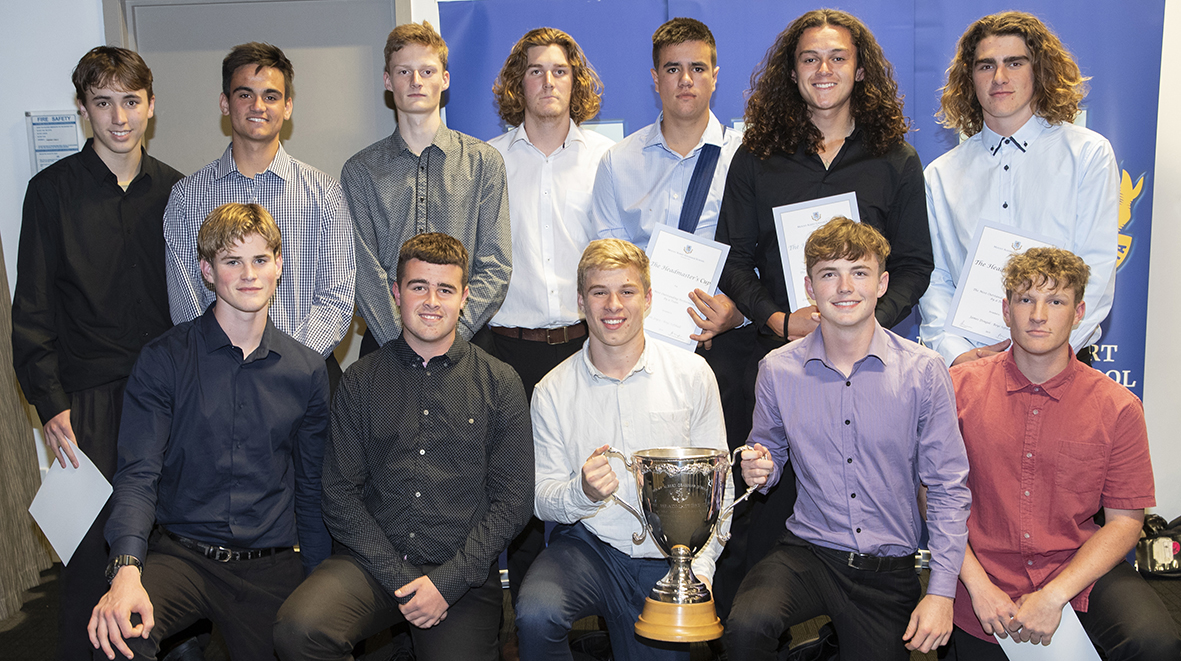 An outstanding year of success in the sporting sphere was celebrated at the Sports Awards Dinner 2019 at Alexandra Park on October 23, with world champion kayaker Lisa Carrington as guest speaker.
Latonya Lole and Lachlan Pearce were named Victrix Ludorum and Victor Ludorum respectively, while the NZ champion Softball Boys Premiers (pictured above) were awarded the Headmaster's Cup for Team of the Year.
The Te Aroha Keenan Cup for Outstanding Individual Achievement for girls was awarded to swimmer Brearna Crawford while basketballer Nate Wilson won the comparable boys' award – the Olympic Cup.
Fencer Charlie Bioletti won the Service to MAGS Sport Cup for offering his opponent a rematch when he discovered he had been wrongly awarded victory.
The night also saw the awarding of Blue Caps to MAGS' Auckland representatives and Black Caps to MAGS' NZ representatives. Six students were also recognised as Elite Premiers for representing MAGS at Premier level for each of their five years at school: Rikki Fiatau (Basketball), Zane Harrison (Lacrosse), Jack Norris (Lacrosse), Eva Williams (Swimming), Dylan Moon (Touch ) and Moanekah Va'ai (Touch).
Trophies were presented by Hockey coach Mark Dempster, School House Assistant Manager Angela Moon and Ms Carrington.
Lachlan was named Victor Ludorum as Captain of the MAGSRow team and Co-captain of the First XI. He also played MAGS Football and was a member of the Maadi 8 to make the A final.
Latonya Lole was named Victrix Ludorum having represented MAGS in three Premier sports this year. She is Co-captain of the Athletics and Premier Netball teams, and was a member of the Premier Girls Touch Team. She was named Auckland Netball Premier Player of the Year and was selected to represent New Zealand against England for New Zealand Secondary Schools.
The Premier Boys Softball team won Team of the Year for finishing first in NZ Secondary Schools, winning the national title in a longer format competition than seen in previous years. This is the seventh consecutive year that MAGS has won this national title. They also finished 1st in AKSS and 1st in the AKSS One-Day Tournament.
Brearna Crawford won the Te Aroha Keenan Cup after breaking every Auckland age group swimming record she has attempted and collecting an amazing 46 Gold medals, 19 NZ Age Group records and two NZ Open Records. Brearna also represented New Zealand at the Junior Worlds meet in Budapest and was a member of the first MAGS team to win a NZSS title.
Nate Wilson won the Olympic Cup for his achievements in Basketball. He is  a member of the MAGS Premier Basketball team. He was an influential member of the team that finished 3rd at the New Zealand Secondary Schools competition this year and was also named in the tournament team. Nate played in the Auckland U19 team who were runners-up in the New Zealand U19 National tournament and was named in the tournament team. Nate represented New Zealand this year as a member of the Junior Tall Blacks who competed in China and has received the MAGS Most Outstanding Basketball Award this year.
On the night, Headmaster Patrick Drumm opened proceedings and said there was a lot to celebrate with success across many sports, as well as recognising the character-building qualities that participating in sport generated. He said the Sports Department, led by Director of Sport Allie Wright, did a fantastic job and was well supported by staff, families and Albertians who managed and coached teams.
The night also featured the Geoff Moon Memorial Dance – Tumalie, with choreography by Year 13 student Ally Mayerhofler and performance by Jedi George-Koteka, Tuiaki Fiuloi, Kailah Johnson and Faith Pillissi.
Ms Carrington, a two-time Olympic Gold medalist and multiple World Champion sprint kayaker, spoke to the audience about her process for success. She said she was always trying to stretch herself and step outside her comfort zone not only in her chosen sport but also in life in general.
She said she didn't like setting goals but preferred to establish a purpose for what she was doing, whether it be training, competing or studying.
And it is obviously working for her. She has been named New Zealand Senior Maori Sportswomen of the year and overall Maori Sportsperson of the year. She is a member of the New Zealand Order of Merit for services to kayaking and a Supreme Halberg Award winner. She has also been named Halberg's Sportswomen of the Year for the last three consecutive years. She has gained her Bachelor of Arts and Politics at Massey University. She is still winning regattas and is looking towards her third Olympics in Japan next year.
At the conclusion of her speech, Ms Carrington was presented with a bouquet of flowers by our champion rower Holly Chaafe.
You can see a full list of Blue Caps, Black Caps and sports award winners here