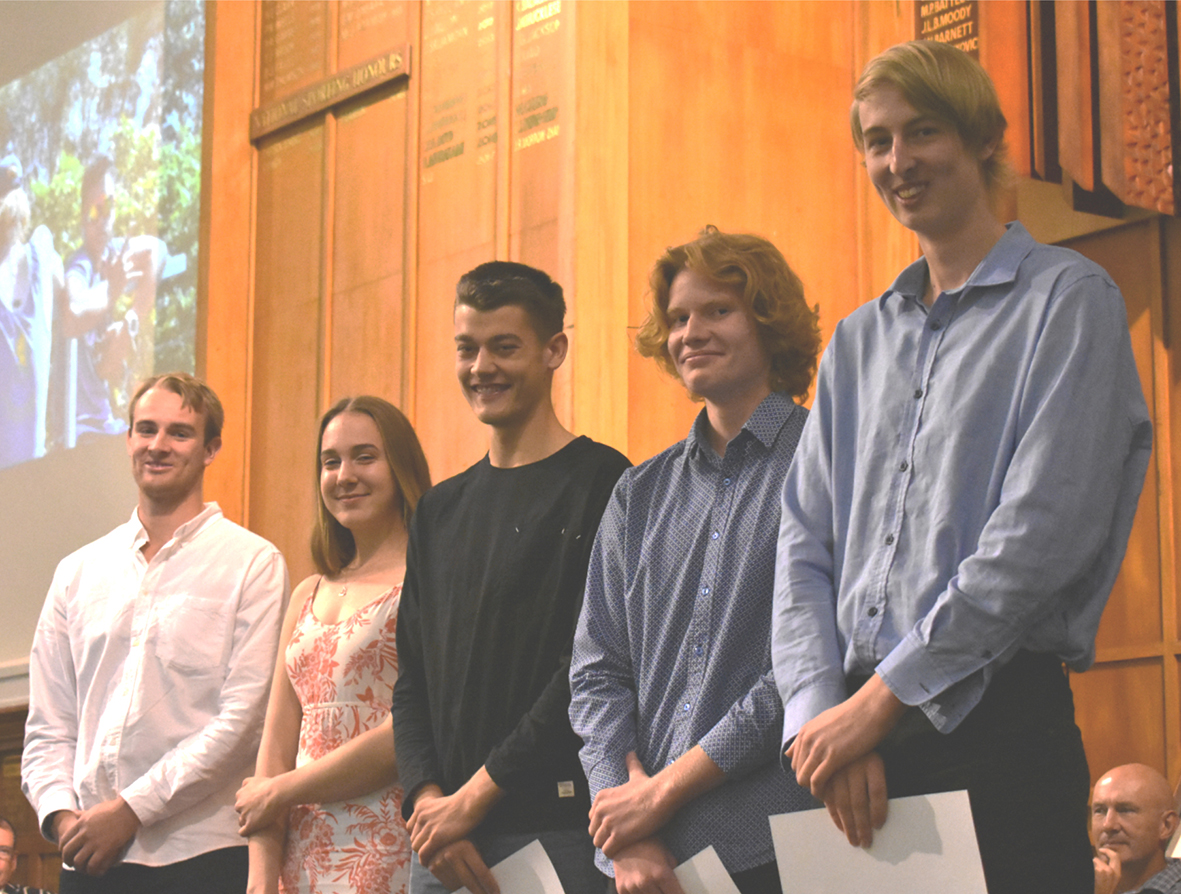 Pictured above (from left to right): MAGSROW Head Coach Callum Ross with the graduating rowers – Girls' Captain Hannah Zwalue, Nathan Smith, Jesse Homer-Pilcher and Dennis Nieuwenhuizen
Holly Chaafe and Jesse Homer-Pilcher were acknowledged as the best rowers at MAGS during the MAGSROW annual prizegiving ceremony, which took place in the school hall on Saturday.
Special guests at the ceremony included two of the MAGSROW Steering Committee – Estelle Sarney and Roger McGarry. The Steering Committee were the driving force behind the commencement of the MAGSROW programme nine years ago, and continue to support and guide rowing at Mount Albert Grammar School today.  The commencement of the programme followed a break of about 20 years, where there was no rowing at MAGS.
Also present were special guests Dave Vallance and David Neuhaus, Club Captain and Rowing Manager respectively of the West End Rowing Club (WERC), to which MAGSROW is affiliated.
The evening's proceedings were opened by MAGSROW's Captains – Hannah Zwalue and Lachlan Pearce – after which the Steering Committee was introduced, parents were thanked for their support and then the Head Coach, Callum Ross carried out the prizegiving, assisted by his fellow coaches.
The prizegiving also took the form of a graduation from school rowing for four Year 13 students: Girls' Captain Hannah Zwalue, Nathan Smith, Jesse Homer-Pilcher and Dennis Nieuwenhuizen. These much-respected senior rowers were formally introduced to the WERC guests, who welcomed them to take up the opportunities offered in club rowing at WERC. MAGSROW wishes the graduating four senior rowers much success and enjoyment as they continue with rowing into the future.
In addition to the awards listed below, Marcus Winter was awarded the MAGSROW oar, an award traditionally made for being the stroke (setting the pace) in the Boys Under 18 Rowing Eight boat at the national Maadi Cup competition. The oar is held in reverence by MAGSROW, with the first engraved name on it being dated 1937.
MAGSROW prize winners for 2018:
Best Contribution – Under 15 Girls – Alex Prince
Most Improved – Under 15 Girls – Ella Mitchell
Best Contribution – Under 15 Boys – Ethan Welch
Most Improved – Under 15 Boys – Max O'Donoghue
Best Contribution – Under 16 Girls – Marieke Richards
Best Contribution – Under 16 Boys – Oliver Ingram
Most Improved – Under 16 Boys – Sam Sparey
Best Contribution – Under 17 Girls – Holly Chaafe
Most Improved – Under 17 Girls – Anastasia Alberts
Best Contribution – Under 17 Boys – Lewis Brown
Most Improved – Under 17 Boys – Marcus Winter
Best Contribution – Under 18 Girls – Hannah Zwalue
Best Contribution – Under 18 Boys – Nathan Smith
Most Improved – Under 18 Boys – Dennis Nieuwenhuizen
Best Coxswain – Hasan Pathan
Most Improved Oarswoman – Hannah Zwalue
Most Improved Oarsman – Anton Waldman
Best Overall Girl Rower – Holly Chaafe
Best Overall Boy Rower – Jesse Homer-Pilcher