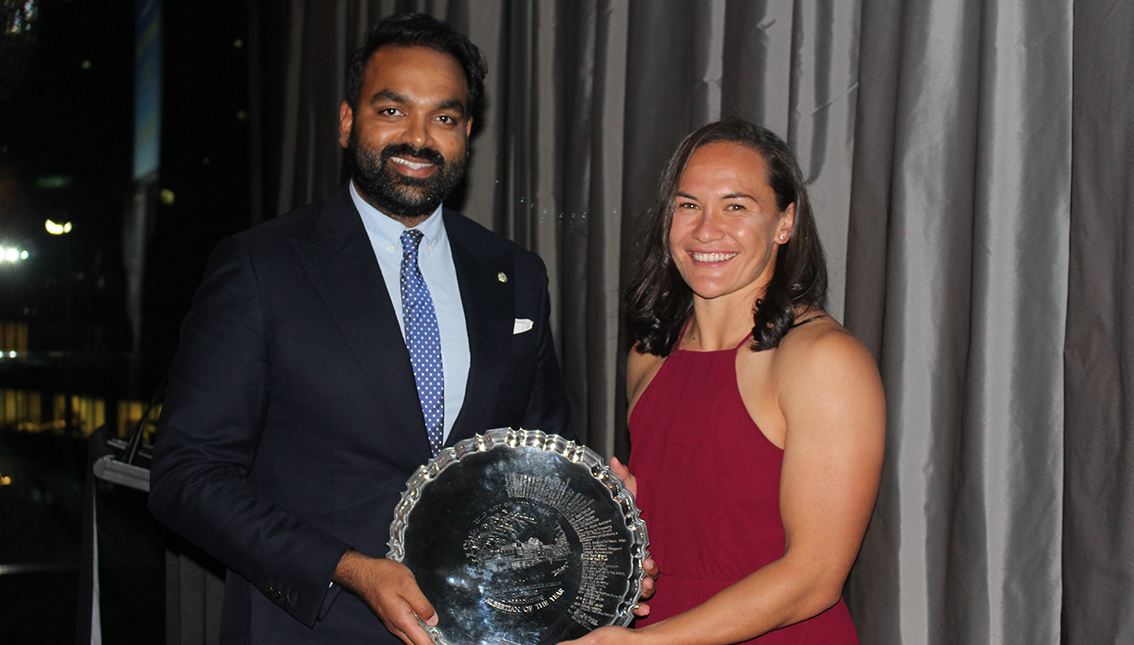 Women's rugby star Portia Woodman was named 2018 Albertian of the Year at the MAGS Annual Dinner hosted by Mount Albert Grammar School and the Albertians Association at the Northern Club in Auckland City on October 31.
Portia (2005-09) earned the accolade for 'Services to NZ Sport'. She is the reigning World Rugby Women's Player of the Year, and a Black Ferns member in Sevens and XVs, and has been nominated again for World Rugby Sevens Player of the Year, a title she won in 2015. She is the only player to have won the World Rugby Player of the Year title in Sevens and XVs.
She won a Commonwealth Games Gold medal in Sevens this year, and picked up a Silver medal at the last Olympic Games.
While at MAGS, Portia – from Kaikohe and of Ngapuhi descent – starred in Athletics, Netball and Touch Rugby. She was also Victrix Ludorum at MAGS.
Accompanying Portia on the night were two trophies she has held aloft: the Women's Sevens and XVs World Cups, as well as the Men's Sevens and XVs World Cups – all currently held by New Zealand.
Broadcaster and Albertian Mark Watson MC'ed the event, and paid tribute to Portia's achievements, particularly winning an Olympic medal. Having covered the Olympic Games, he knew how hard it was to win a medal – even though he knew Portia would be disappointed she did not win Gold.
Aftab Moosa, President of the Mount Albert Grammar School Albertians Association, said having alumni such as Portia, reinforced the school's reputation for excellence, which had spurred rapid growth in the roll and a building programme to keep up with it. But he said the school was more than just bricks and mortar, and to quote a Maori proverb, the most important thing was "the people, the people, the people".
In his speech, Headmaster Patrick Drumm pointed out that Portia came to MAGS because of its Maori immersion unit, Te Puna o Wairaka and was one of its first graduates. He said the school was proud to support such diversity, which was still one of its strengths.
He also noted that Portia was the first woman to be receive the Albertian of the Year silver plate, which was presented to her by Mr Moosa (pictured above).
Mr Drumm praised Portia as the world's best women's rugby player, and thanked her for taking time in her busy schedule to accept the honour.
Portia's friend Shannon Leota read her citation for Albertian of the Year, recalling her being a fine athlete and fierce competitor at MAGS. She said that just as the All Blacks had a strategy for winning of "just give the ball to Jonah", she and her Touch Rugby team mates also tried to get the ball to Portia at all costs so they could let her loose.
When she spoke, Portia said she was honoured to be named Albertian of the Year at a school that had such a proud history and tradition of excellence. She remembered looking in awe at the names on the Sports Honours Board.
At MAGS, Portia was a star netballer and was told she couldn't play rugby because her coaches were worried she would get injured. So, she would wipe the mud off her knees from rugby practice before going to netball training.
Portia, who was accompanied by her whanau, including mother and father Kathryn and Kawhena Woodman, said she set herself lofty goals so that even if she fell short, she would still achieve great things. She aims to claim that elusive Olympic Gold medal.
Albertian Sir Bryan Williams conducted the Toast to the School, and apologised for not pushing Girls Rugby while Portia was at school and he was Director of Rugby. However, he said he would have had a battle on his hands with Netball coach Te Aroha Keenan, who would not have allowed it.
He praised Portia for her role in promoting Women's Rugby to a wider audience and driving the game to greater heights.
The evening was closed out with an a cappella version of the School Hymn by students Salote Fiuloi, Tuiaki Fiuloi and Viliami Moli.