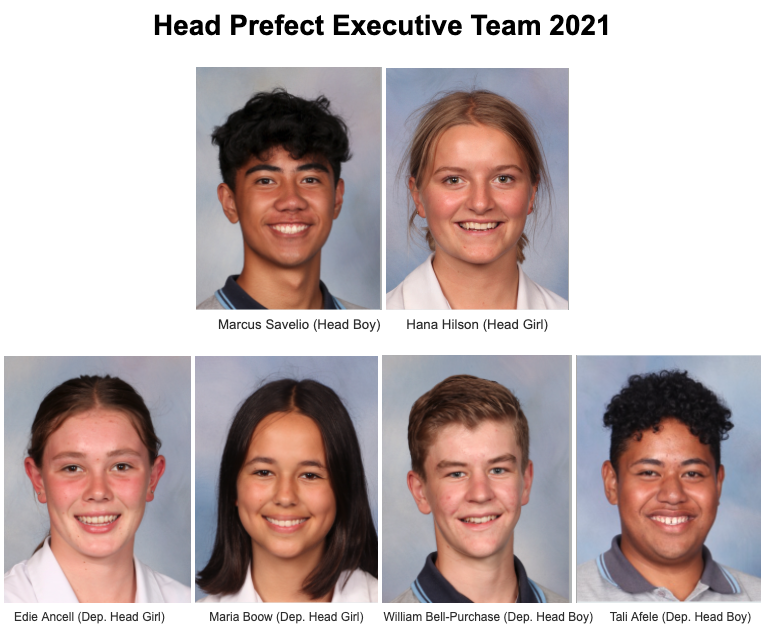 Congratulations to our Head Girl and Head Boy for 2021: Hana Hilson and Marcus Savelio, who are joined by deputies Tali Afele, William Bell-Purchas, Edie Ancell and Maria Boow in the Head Prefect Executive Team.
The Head Prefect Executive team was chosen following the Prefects Convention held last weekend at MAGS School House.
Outgoing Head Boy Eric Shen and Head Girl Megan Williams will hand over the korowai donated by the Gallagher-Sullivan family to Marcus and Hana next year when they take up their leadership roles.
Head Boy Marcus Savelio's contribution to MAGS has been considerable right from his earliest days at the school. He was appointed to Class and Year Level Representative roles as a Junior. He has been involved in Basketball, Peer Support and the Pasifika Council, but it is in his contribution to the Arts, especially Dance, where Marcus has given so much. His work with the prize-winning MAGS Megacrew, the Dance Committee and Boys' Dance in general has been exceptional. He is the best kind of role model: hardworking, humble and kind.
Head Girl Hana Hilson is a key member of our MAGS sporting community. She has been a part of MAGS First XI Football squad and has competed in the following teams for MAGS: Volleyball, Hockey, Tennis, Athletics, and Orienteering. Along with her passion for sports, Hana is an active member of MAGS Interact Group, Environmental Club, and Feminist Club. Regardless of her outstanding personal achievements, Hana is always willing to support others and the MAGS community.
Deputy Head Boy Tali Afele is well-known around MAGS. He's been a Class Rep, umpired Netball, and been a mainstay of the school's Pasifika community. He has been called upon to host numerous school occasions and his performance skills in singing across so many choirs and events have made him a star.
Deputy Head Boy William Bell-Purchas is a compassionate and caring member of our school community, fully involved in serving others through his involvement with SADD, Peer Mediation, the Interact Group, World Challenge, Relay for Life, Duke of Ed and being a Refugee Buddy. He still had time to play Football for the school, and therefore represents the best of what a MAGS student can be.
Deputy Head Girl Edie Ancell is a driven young woman and her achievements speak for themselves, particularly her success as a member of MAGS Swim Team. Edie has a passion for health and wellbeing and has been involved in the MAGS Health committee in 2020.
Deputy Head Girl Maria Boow is a key leader within MAGS' Feminist Club and holds a passion for giving back to our school community. Maria welcomes a challenge, she is a part of the Duke of Edinburgh program and has been on a range of MAGS sports teams and clubs over the past four years.
2021 Prefects:
Hannah Adye, Tali Afele, Morgan Aiono, Edie Ancell, Matthew Batcheler, William Bell-Purchas, Henri Blakeley, Emeline Bloomfield, Maria Boow, Samara Brain, Sylvia Brunt, Oliver Bulman, Amelia Caltaux, Nate Carroll, Mingi Cho, Luke Clements, Matthew Denby, Grace Duan, Angus Edwards, Leilani Ginnen, Nofolisi Hala, Justin Hemara, Hana Hilson, Stanley Iongi, Humeera Imran, Rosa Jack, Char'lee Jones, Reet Kamra, Anna Kozawa, Lance Law, Jovis Meredith, Nicole Muir, Keertivaasan Prakash, Xander Pritchard, Marcus Savelio, Genevieve Taua, Boston Tofa, Pasilika Ulugia-Pua, Ullrich Von Reiche, Ella Vuetilovoni, Breanna Waka, Lucy Woodall.
We trust that the 2021 Year 13 student body will support this group in their significant role.