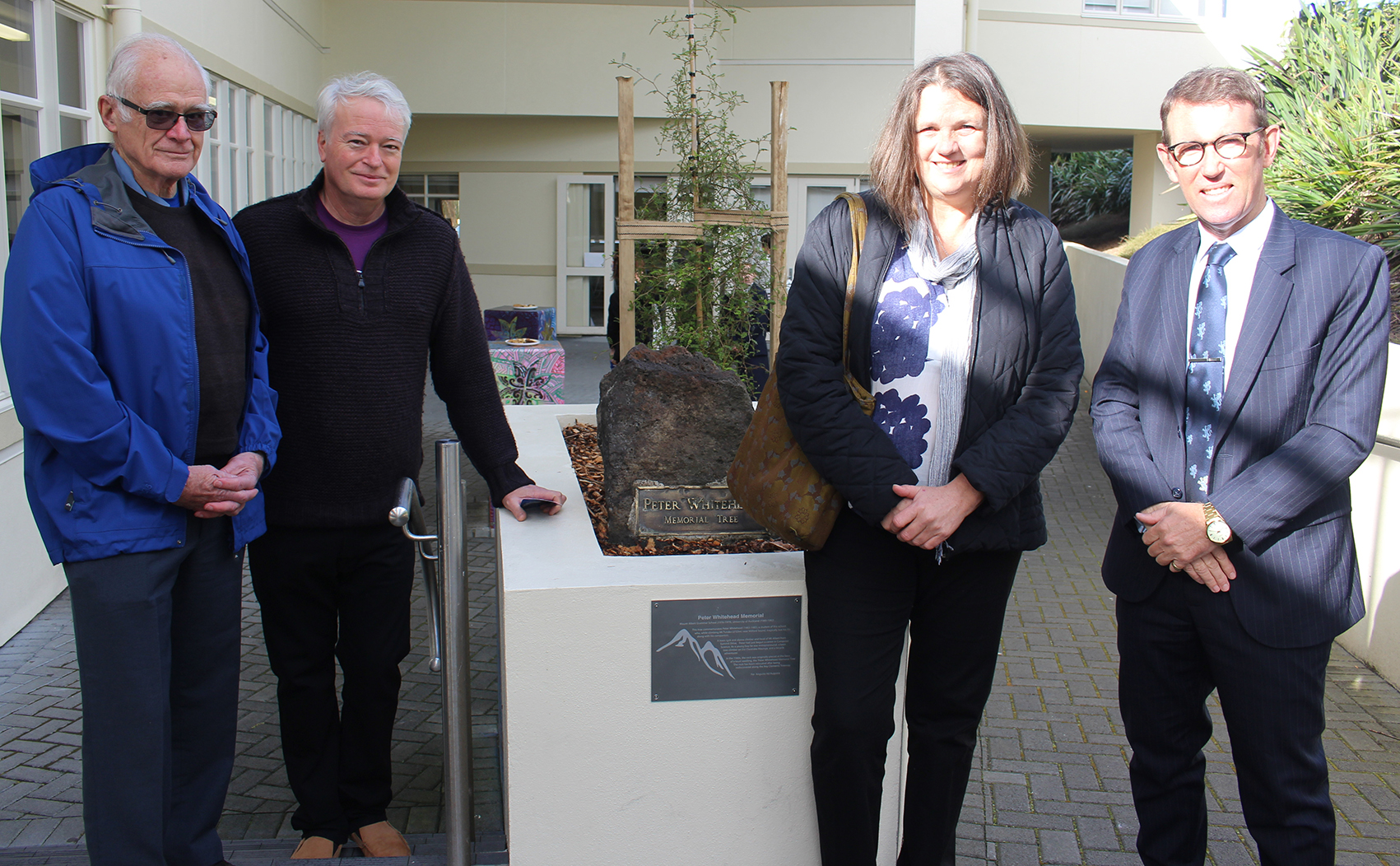 At the Peter Whitehead Memorial Re-dedication (pictured from left): Bob Whitehead, friends Lindsay Esler and Jacqui Straffon, and Headmaster Patrick Drumm
In a moving ceremony this morning, a memorial to Albertian Peter Whitehead (1976-1979) was re-dedicated in the school grounds.
Peter, along with a companion, died in a climbing accident on Mt Tutoko in Fiordland in 1985, and his body was never recovered. He was 21 at the time and had embarked on a career in computer software.
About a year after Peter's death, childhood friend Lindsay Esler, his family and the Whitehead family decided to pay a tribute to Peter. A memorial service was held and a kauri was planted beside Meola Creek along what is known now as the Roy Clements Treeway.
Beneath the kauri, a plaque with the legend 'Peter Whitehead Memorial Tree' was embedded in concrete. Some time later, the tree died and the plaque-embedded concrete disappeared – thought to have been dragged out by vandals and rolled into the creek.
Many years later, when the plaque was rediscovered in the creek, Mr Clements, a former teacher at MAGS and the rather of the Treeway, ensured that it was recovered.
At this stage, Bruce Morris, who runs local website mtalbertinc.co.nz, got involved and uncovered the story of Peter Whitehead and the plaque, which you can read here
When MAGS discovered the significance of the plaque, arrangements got underway to have it re-dedicated – with Lindsay Esler representing the interests of the Whitehead family.
Headmaster Patrick Drumm asked the school's Prefects with the help of Deputy Principal John Stradwick to take on organising the re-dedication, with a new plaque created to explain the significance of the 'Peter Whitehead Memorial Tree' plaque. Both plaques, which were unveiled at this morning's ceremony, now sit beneath a kowhai tree.
Among those in attendance at the ceremony this morning were Peter's father Bob Whitehead, friends Lindsay Esler, Jacqui Straffon and Danny Wolf, and Warwick Gibbs, Greg Cave, Brian Murphy and Roy Clements, who were teachers at MAGS during Peter's time here in the late 1970s.
After a karakia by Matua Peter Walters, Prefects Billy McColl, Liam Akeli and Denzel Kelemete performed a beautiful a cappella version of the School Hymn.
Mr Drumm welcomed the guests and thanked the school's Prefects for becoming involved with the re-dedication, which showed that the school never forgot one of its own.
"Once an Albertian, always an Albertian."
He said it was a privilege for the school to be able to put things right for the family, and find a home for the memorial within the school grounds.
Mr Gibbs, who taught French to Peter, unearthed his mark books from the 1970s and said they showed that Peter was very able academically but underestimated his own talents. Peter took part in school camps and played softball and rugby, coached in the latter by Mr Cave.
Mr Esler spoke on behalf of the Whitehead family and Peter's friends, saying he and Peter enjoyed an idyllic childhood, biking around the neighbourhood and building go karts. He thanked the school for remembering Peter, and said Peter's story was a reminder of how fragile life could be and that you had to make the most of every day you were given.
The plaques were then unveiled by Mr Stradwick and Prefect Janelle Kara, who read out the inscription on the new plaque, which reads:
Peter Whitehead Memorial
Mount Albert Grammar School (1976-1979), University of Auckland (1980-1982)
This tree commemorates Peter Whitehead (1963-1985), a student of this school,
who, while climbing Mt Tutoko (2723m) near Milford Sound, tragically lost his life along with his companion.
A keen rock and alpine climber and local of Mt Albert from Summit Drive, Peter had just begun a career in Computer Science.
As a young boy he was entrepreneurial, a keen tree climber on the Owairaka Maunga, and a bicycle adventurer.
In the 1980s, the rock was originally placed at the base of a kauri seedling, the 'Peter Whitehead Memorial Tree'.
The rock has been relocated after being rediscovered along the Roy Clements Treeway.

Per Angusta Ad Augusta