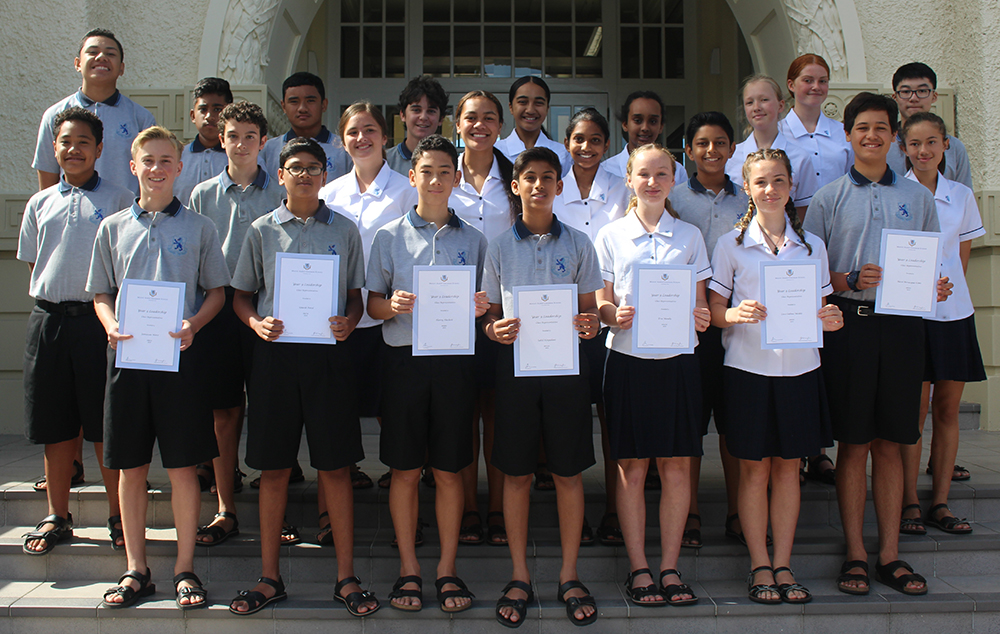 At assemblies on March 4 and 5, the Year 9 and Year 10 Class Representatives and Captains for the Interform Competition for 2019 were announced.
Year 9 Class Representatives (pictured at top are): Bella Adams-Doyle, 9PTI; Gabriel Aitu, 9CNS; Maxi Bevacqua-Kimi, 9DAL; Justin Brendolise, 9SCF; Neal Dunna, 9KGN; Tabitha Freeman, 9SEO; Harika Gannabathula, 9RPY; Natasha Greenway, 9PUL; Harry Hackett, 9HBN; Wilson Hafoka, 9FLM; Jamieson Horst, 9RYE; William Iaseto, 9PHR; Sahil Kirpalani, 9YAN; Fuatino Lavea, 9IRE; Sara Mazengia, 9ROB; Coco-Sabine Meikle, 9SNH; Eva Moody, 9VZW; Chrish Patel, 9HOB; Umesh Patel, 9STW; Vaughn Rapana-Enosa, 9ACK; Madeleine Shaw, 9ADS; Oliver Tang, 9GIB; Sienna-Rose Tawera, 9HGH.
Year 9 Interform Captains: Kalani Ah Sue, 9HBN; Craig Brough, 9FLM, Baden Campbell, 09HOB; Milly Clegg, 9VZW; Jayde Cummings, 9PTI;
Peyman Golzarpour, 9SCF; William Ikinepule, 9CNS; Nia Kaufusi, 9STW; Esther Kei, 9ROB; Elliot Kitchener, 9GIB; 'Ana Malani, 9PUL; Luke Matthews, 9RYE; Reuben Nemeroff, 9KGN; Declan Paxton, 9YAN; Eden Pirini, 9RPY; Eamon Pita, 9DAL; Bianca Power, 9ADS; Cole Rogers, 9ACK; Wilhelm Satele, 9PHR;
Zayyaan Smith, 9HGH; Hannah Ulu, 9IRE; Alaskah Vaivai, 9SNH; Xanthe Werder, 9SEO.
Year 10 Class Representatives: Lily Brislen, 10DBN; Will Devine, 10LGR; Sam Fuemana, 10TNR; Ben Hellriegel, 10WLD; Alex Horst, 10JTN; Nathan Hrstic, 10GCA; Narin Lane, 10SLE; Josh Li, 10MLR; Jachin Manu, 10KNW; Harriet Morris, 10GOF; Amelia Orr, 10AHN; Dayannara Malia Pati, 10CHA; Tahlia Petersen, 10BRW; Calvin Pooley, 10PNE; Emalata Puafisi, 10FRS; Arjan Rahmati, 10CGL; Myles Raynor, 10MZS; Riki Ruben, 10DBH; Sofia Skinner, 10FDZ;
Tia Streater, 10RVE; Sharon Tomokino, 10CSN; Zoe Cassidy Tritt, 10GLO.
Year 10 Interform Captains: Dani Ah Chee-Wilson, 10GOF; Lenny Anderson, 10DBH; Liam Chapman, 10GCA; Thomas Fairweather, 10PNE; Mary Filimone, 10RVE; Denzal Hurt-Pickering, 10MZS; Jed Jackson, 10SLE; Hamako Kawaguchi, 10CHA; Jack Millar, 10WLD; Poppy Morris, 10AHN; Nate Murray, 10KNW; Ava Paynter, 10DBN;
Flynn Saxon, 10LGR; Ben Skelton, 10CGL; Danae Tait, 10FDZ; Harry Tauafiafi-lutoi, 10TNR; Annabelle Tu'inukuafe, 10FRS; Kyra Tusa, 10GLO; Roman Viney, 10MLR; Zoe Whaley, 10BRW; Harrison Woodham, 10JTN; Catalina Young, 10CSN.