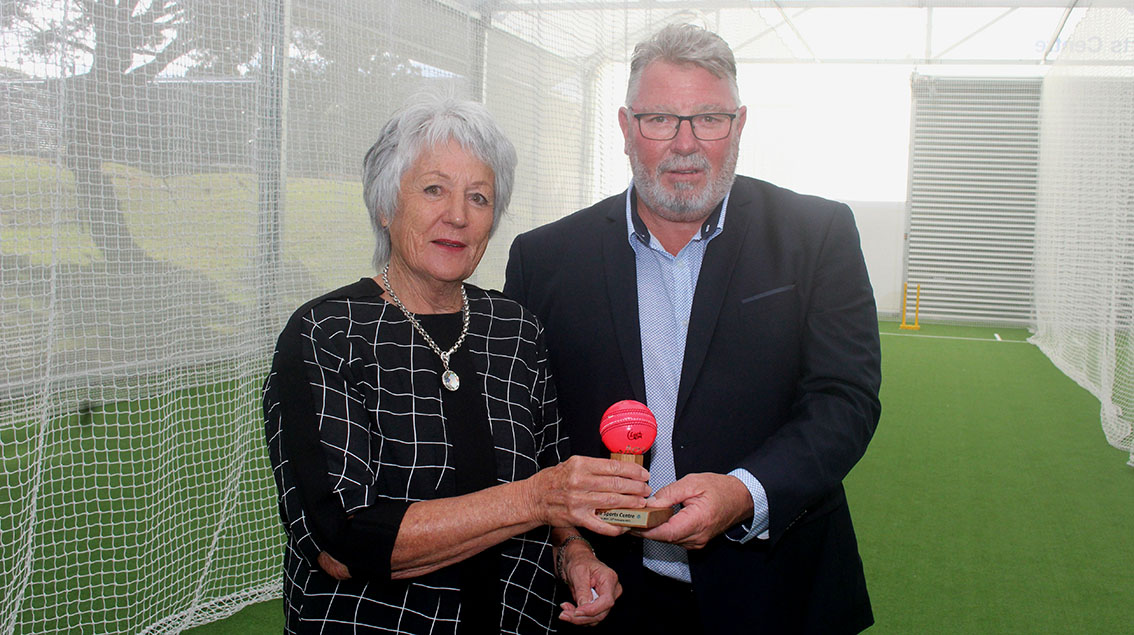 MAGS officially unveiled the GL Weir Sports Centre, its state of the art indoor sports training facility, on February 12 with an evening function for invited guests.
The all-weather facility is named after Gordon Lindsay Weir (pictured right), a foundation pupil (1922-26) and Head Prefect at MAGS, who came back as a teacher for 41 years (interrupted by war service) from 1938-78 and represented New Zealand at cricket (1930-37).
Guests enjoyed light refreshments and browsed memorabilia at the official opening before proceedings got underway.
In his opening remarks, Headmaster Patrick Drumm said naming the centre after Gordon Lindsay Weir was a fitting tribute to a man who had made a massive contribution to the school and his country.
Director of Cricket Tony Sail said visitors to the centre always reacted with a 'Wow!', the same reaction he had when he learned about the life of GL Weir.
In 1926, GL Weir was Head Prefect, and Captain of the 1st XV Rugby and the 1st XI Cricket teams. He returned to teach in 1938 and stayed for 41 years as a teacher of English and French, taking leave to serve with the New Zealand armed forces in Egypt and Italy during World War II. In later years he was HOD English, Deputy Headmaster and Acting Headmaster. Over the years he was also the coach of hundreds of rugby and cricket players.
He played representative rugby for Auckland and was MAGS first test cricketer, representing New Zealand from 1930-37.
Following an a capella version of the school song, former White Fern cricketer and Albertian Georgia Guy (2007-11) bowled a commemorative ball to First XI Cricket Captains Keertivaasan Prakash and Shivani Unka. The trio then signed the ball and Mr Sail presented it to GL Weir's daughter-in-law Jane Weir.
Mrs Weir thanked the school for honouring her father-in-law then declared the centre officially opened, saying that, as a keen sportsperson while at school, she couldn't believe how lucky MAGS' students were to have such a facility.
Inside, the centre has curtained nets that can be reconfigured to allow for different sports to train, including cricket, football, hockey, netball and tennis.
Money from the MAGS Foundation helped to build this 800m sqm facility, which is being primarily used for cricket and PE at the moment.