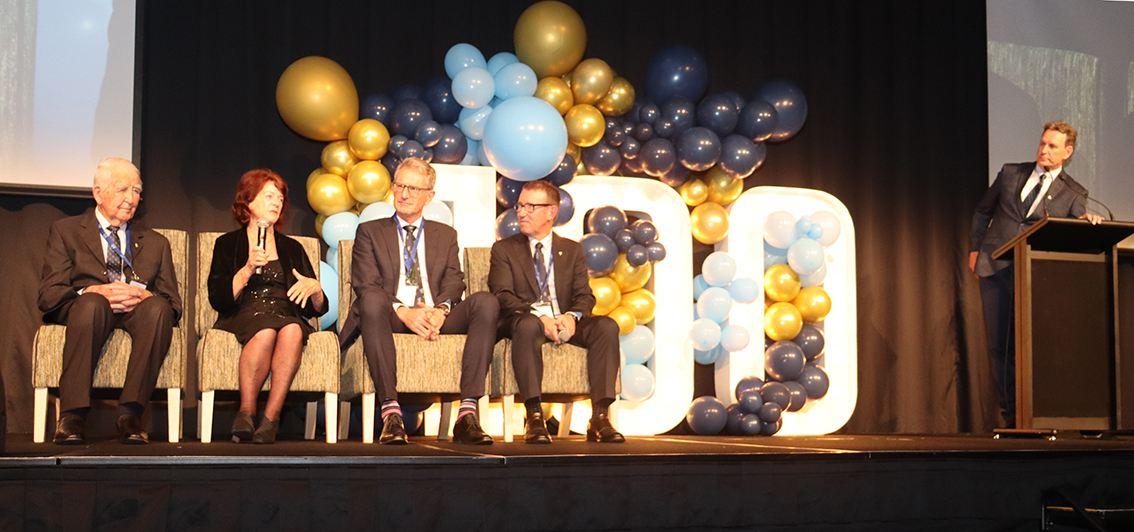 Our Centenary Dinner was a celebration of the traditions, advances and diversity that make MAGS a great school.
Our school is founded on the Four Pillars – Academia, Arts, Service and Sport – and follows the 'MAGS Way' values, and those were on display and celebrated throughout the night.
MC'ed by Albertian Mark Watson, the event saw Albertians packing out the ballroom at the Grand Millennium Hotel and enjoying musical performances as well as guest speakers such as Sir Bryan Williams, scientist Molly Swanson and our Academic Dean Warwick Gibbs.
First up was another stellar performance by our award-winning Centennial Choir, under the guidance of Terence Maskell.
That was followed by a Headmasters Panel Q&A session with Headmaster Mr Drumm and former headmasters Maurice Hall (1970-88) and Dale Burden (2006-2015), and Noeleen Taylor standing in for her husband Greg, who was headmaster from 1988-2006. Mr Watson quizzed the panel about the changes they had seen and made at MAGS.
Then, Sir Bryan spoke about his time at MAGS and how that had prepared him for becoming an All Black at the age of 19 and a career in law. He said he had lived his life by the MAGS motto of 'Per Angusta Ad Augusta' (Through Hardship to Glory) as nothing had ever come easy in rugby or in law, then balancing both with family life.
Ms Swanson, who is a research fellow at University of Auckland studying neurodegenerative disease, said she was a quirky teenager but found her place at MAGS and enjoyed the breadth of opportunity that was offered to her.
Before Mr Gibbs' speech, Albertian Talie Meavale and Deputy Head Prefect Isaiah Nin and Year 13 student Nathan Setefano (on guitar) performed a lively medley of songs.
Mr Gibbs, our Academic Dean, reflected on his 50 years (and counting) in teaching at MAGS and how times had changed since he was employed by Mr Hall fresh out of teachers college. He said teaching wasn't always easy but he had enjoyed learning from his students just as much as teaching them.
Centenary Committee Chair Mr Griffiths wrapped up the evening with a toast to absent friends and one to the school, and presented our Events Manager Emma John with a bouquet of flowers in recognition of her efforts to bring together such a great evening, before everyone got to their feet to close the evening with the School Hymn accompanied by Mr Gibbs on keyboard.