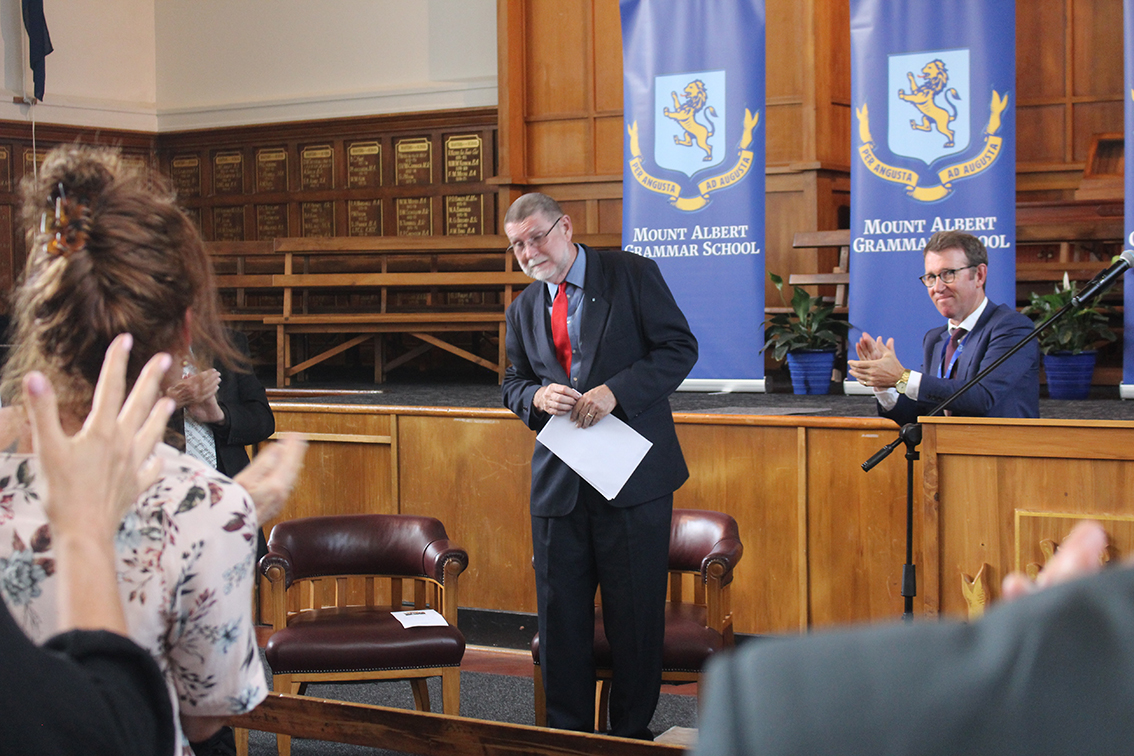 After 46 years of teaching at MAGS, Greg Cave has retired and was farewelled at a special event held in the FW Gamble Hall on December 1 that was attended by friends, family and colleagues and students past and present.
Headmaster Patrick Drumm welcomed the guests and said that the theme for 2019 has been one of service, with Mr Cave's of the most extraordinary kind.
He had been at MAGS for 46 years as a teacher and five years as a student. His father was a student in 1923 and two of Mr Cave's sons attended in the 80s/90s. Mr Cave has had various responsibilities over the years and taught numerous subjects, and retires as HOD Classics and Associate Academic Dean.
Mr Drumm said that Mr Cave, who had recently been named Albertian of the Year, was a "four-waller" in that his legacy was reflected in the Honours Boards around four walls of the hall.
Former HoD History Paul Gardner (with a mere 40 years service) spoke next and remembered Mr Cave as a great colleague and friend, a staffroom fixture at the table by the window who always carried a diary and boasted a beard.
Mr Gardner said Mr Cave was a rugby coach, an active member of the union, a dean and an administrator. He was the first face that new entrants met, supervised their entry exams, awarded their success at prizegiving and then made the final speech at the Leavers' Dinner.
A 48-year veteran of MAGS (and still counting) was next to speak. Academic Dean Warwick Gibbs said he had been teaching for two years at MAGS when he first met Mr Cave, who seemed a quiet, retiring young man and he didn't know if he would last.
Mr Cave took over Latin and they became friends as they had a background of Latin and knowledge of the odd people who taught it.
Mr Cave introduced Japanese and Year 13 Classics in 1980. Mr Gibbs said the strength of Classics is attributed to Mr Cave's commitment and depth of knowledge.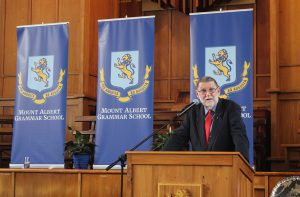 He said that Mr Cave also had an uncanny knack of knowing song lyrics verbatim from the 1960s – like a modern version of  a medieval troubadour or an ancient Greek poet.
He added that Mr Cave cares deeply about students and his colleagues, and above all his family, his wife, his four children and his grandchildren. His office was covered in their photos.
Mr Cave said that when his two eldest sons –Michael and Matt – came here, they were part of the first three-generation MAGS family.
Mr Cave started as a young third-former in 1964. He said he was in constant fear of the teachers who didn't hesitate to use the cane. Bullying was common and little done about it; that was the way it was.
He said that a MAGS teacher inspired him to be a teacher but he never thought he would come back to teach. However, he came back to MAGS on section while at Teachers' College, did a decent job and even enjoyed it.
As MAGS was offering one of the few jobs with Latin classes, that sealed his fate. He also taught junior French, and English needed his help.
Mr Cave described his first year as a "baptism of fire" but settled into the job and by 1980 finally had Classics classes, which meant no more English classes.
In 1987, he filled in as teacher librarian and then was appointed Dean (with Brian Murphy as counsellor).
He also introduced Japanese although his "only qualification was a black belt in Aikido".
Later on, he and Mr Gibbs were Senior Deans as the roll grew, and the increased numbers also meant Mr Cave eventually taught Classics alone, before becoming HOD Classics and Associate Academic Dean.
Through the years he has also coached or managed rugby, tennis, table tennis, debating and water polo.
Mr Cave has also taken students on overseas tours to Japan and Classics Trips to Italy and Greece.
He said he had worked with many wonderful colleagues and derived satisfaction from knowing he had made a difference in students' lives – and the fact they were usually pleased to see him after they had left school.
Mr Cave also thanked the Board of Trustees for admitting girls, which had a positive impact on the school.
He said he had mulled over retirement for a long time, and wondered if he should go before Mr Gibbs and Mr Murphy but decided he had "lost the spark" and wouldn't be doing his best if carried on.
Mr Cave ended by thanking his wife Shelagh for her support and understanding over the years, and was given a standing ovation.