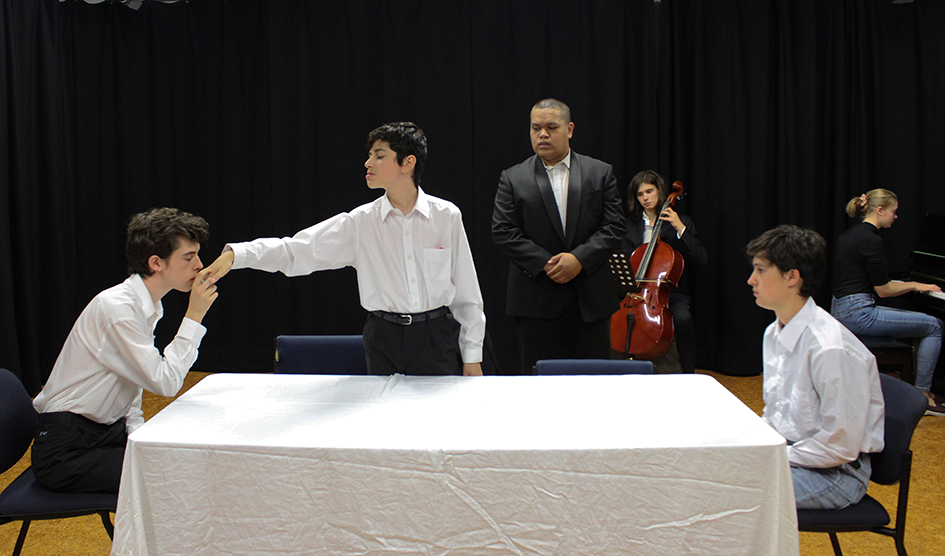 MAGS' Drama students came away with two awards from their performances on April 10 at the Auckland Central Sheilah Winn Shakespeare Festival at Diocesan School.
Molly Cavanagh and Imogen King were recognised for their acting skills and received Rising Star Awards. We also received the prize for Most Unexpected Use of Props for Camille Peterson's post-apocalyptic Gravedigger scene from Hamlet.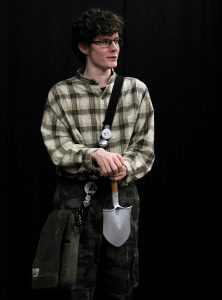 Drama students were excited by the chance to perform the 15-minute and 5-minute scenes from Shakespeare's canon. It was an excellent opportunity for them to develop their skills both onstage and backstage as well as express themselves creatively. This year there were three student-directed scenes alongside the teacher-directed scene.
Jasper Cameron directed Act 1 Scene 3 from
The Merchant of Venice
(pictured above). The scene takes place in a restaurant that is a front for a criminal network during Prohibition Era New York. He had authentic costuming and a live band to create the seedy atmosphere.
Camille Peterson's Gravedigger scene (pictured left) examined the status of the characters through the return to feudalism.
Ruby Wilson and Nikitha Chinthalacheruvu co-directed a collection of scenes from
King Lear
. It had a traditional setting but they had dual-cast the titular character to emphasise his descent into madness.
Finally, HOD Drama Mr Urquhart directed Act 1 Scene 1 from
Much Ado About Nothing
. Soldiers are welcomed back from the front. Love blossoms and rivalries resume.
Mr Urquhart said, "A huge thank you to the people who came to watch. Also, I have immense gratitude for the organisation by Student Leaders Molly Cavanagh and Reet Kamra."
Dress rehearsal photos by Tess Gough Stalker