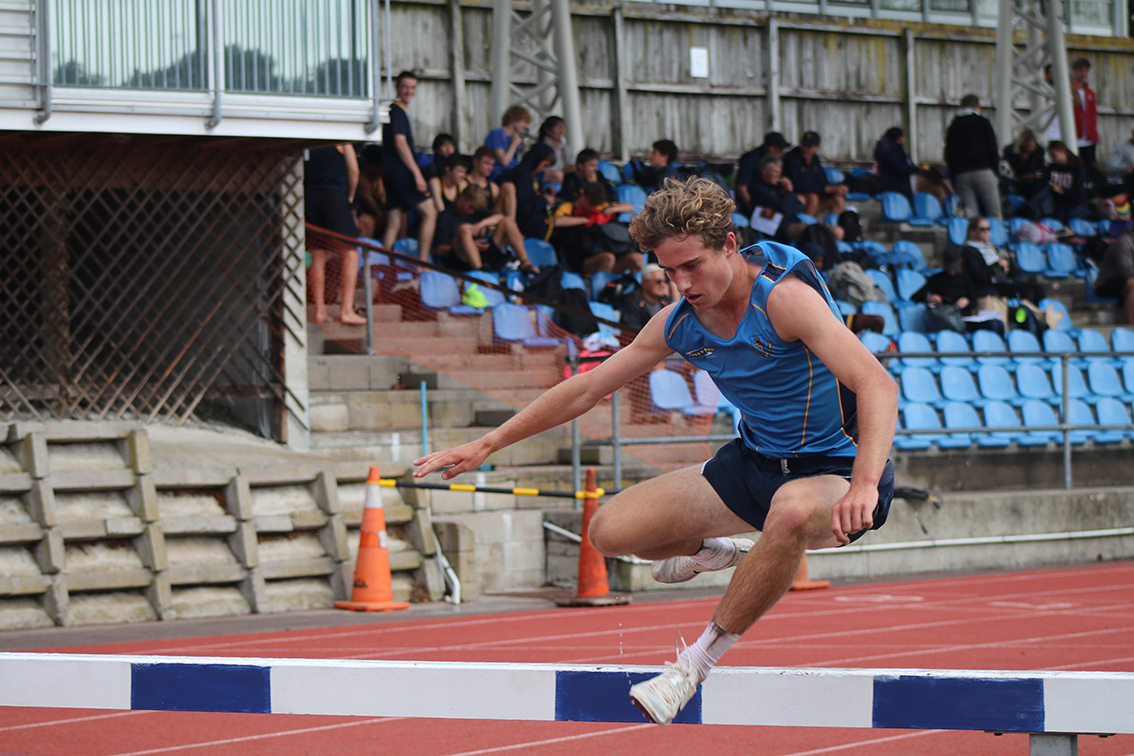 Twenty nine students represented Mount Albert Grammar at the Auckland Secondary School Athletics Championships on Tuesday, March 30 at Mount Smart Stadium.
Our students performed exceptionally well in wet and windy conditions for the first part of the day. Overall, MAGS students won 18 medals at the meet.
A pleasing sign was seeing a number of junior students excelling at this level of competition and a number of more experienced athletes continuing representing Mount Albert Grammar at a high level.
Gezreyal Maiu'u won three events –  the Junior Girls 200m, Junior Girls 70m Hurdles, the 300m Junior Girls Hurdles – and came second in the Junior Girls Triple Jump. In the process, she set two school records: in the 300m Junior Girls Hurdles, with a time of 42.76 seconds (eclipsing the record of 48.12 seconds set by Amelia Caltaux in 2018), and she broke the Junior Girls Triple Jump record by 30cm with a jump of 10.10m. The previous record had been standing since 2008, and was set by Natalie Booth.
A special mention goes to Benjie Fairclough, who broke an Auckland Secondary Schools Championship meet record with a time of 45.44 seconds in winning the Junior Boys 300m Hurdles. This may also be a school record as well. Previously there has been no time recorded for this event.
The 4x100m Junior Girls relay team (Gezreyal Maiu'u, Tommee Paeu, Nina Chalmers and Ella De Coek) won Gold and beat the record they set at the zone meet two weeks ago with a time of 53.20 seconds.
The Senior Boys 4x400m relay team of Shay Russek, Luke Clements, Eamon Buick and Troy Middleton also won – in a close race – and surpassed a record set in 2016 by 10 seconds with a time of 3:34.26.
Sylvia Brunt threw 12.72m in coming second in the Senior Girls Shot Put to beat a record set by Yoko Tsukushi last year by 28cm.
Gold medals were also won by Tommee Paeu (Junior Girls Long Jump), Troy Middleton (Senior Boys 200m) and Luke Clements (Senior Boys Steeplechase 2000m).
These students gained top three places:
Tommee Paeu: 1st Junior Girls Long Jump
Anika Todd: 2nd Intermediate Girls Javelin
Sylvia Brunt: 2nd Senior Girls Shot Put
Hannah Adye: 2nd Open Girls Pole Vault
Pomare Schultz: 3rd Junior Boys 100m
Benjie Fairclough: 1st Junior Boys 300m Hurdles
Elliot Kitchener: 3rd Intermediate Boys 200m
Troy Middleton: 1st Senior Boys 200m, 2nd Senior Boys 400m
Luke Clements: 3rd Senior Boys 3000m, 1st Steeplechase Senior Boys 2000m
Ben Skelton: 3rd Senior Boys Discus
4 x 100m Junior Girls Relay (Nina Chalmers, Gezreyal Maiu'u, Ella De Coek, Tommee Paeu): 1st
A big thanks goes to all the students who endured a long day at the track and competed to a high standard.  Thanks to all the parents who supported throughout the day.  A special thanks to Maihi Wilcox and Braiden Higginson, who assisted at the event with the starting blocks.  Also thanks to Ms Wright and Mr Lay for their support on the day.