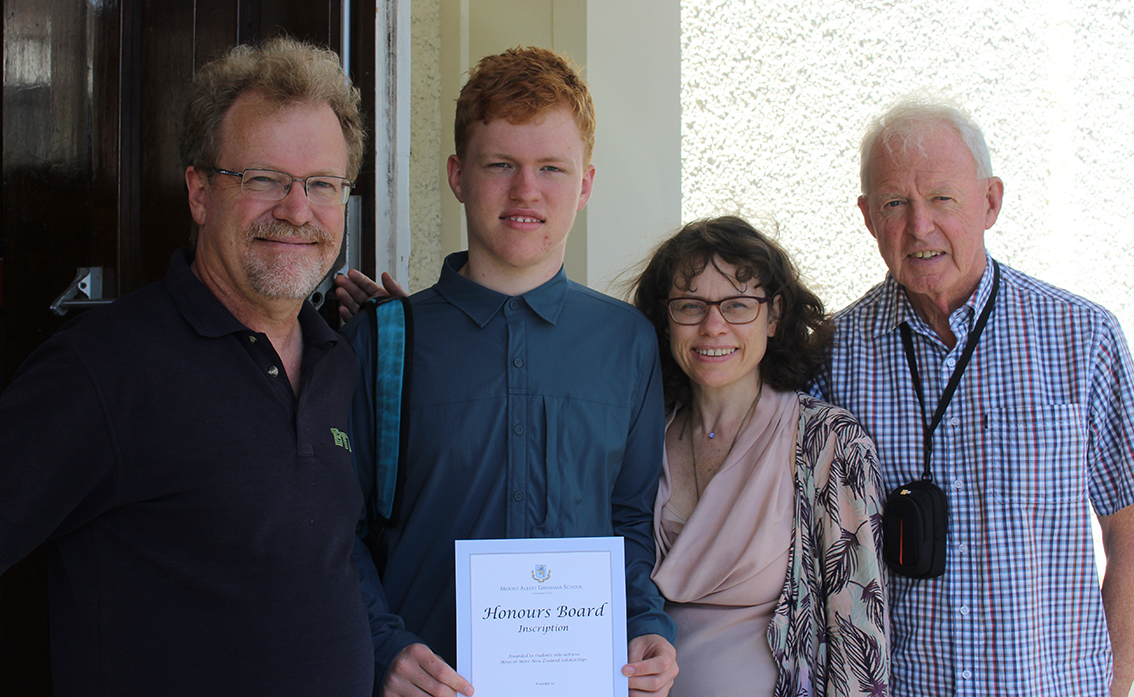 Seven new names will be inscribed on the Honours Board following the Scholars' Assembly held on Wednesday.
Mount Albert Grammar School recognised its top scholars for 2017 at a ceremony MC'ed by Head Boy Isaac Munro and Head Girl Hannah Houghton.
Among the highest achievers were the Boy and Girl Dux of 2017, Lucas Peterson and Harshita Nayyar. Lucas, pictured above with his family, earned four Scholarships, and Harshita earned three Scholarships.
They will go onto the school's Honours Board along with five more students who earned three Scholarships: Sahil Bhatiani, Fraser Eade (Outstanding in Biology), Shuang Li (Outstanding in Physics), Jack Morrow-Zhang (Outstanding in Physics), and Merry Wu.
Students who receive three or more Scholarships are awarded  $2000 per year for up to three years toward their tertiary studies.
Girl Proxime Accessit for 2017 Yusi Gao received the June Gray Charitable Trust Tertiary Education Scholarship (worth $3000 per year for three years), while Kenneth Zhu received the Jim Greatbanks Mount Albert Grammar School Engineering Scholarship (worth $4000 for each of four years of study in Engineering).
Outstanding Scholarships were also awarded to Anton Aish (Statistics), Jonathan De Pledge (Calculus), Zi Huang (Calculus), Miriam Leonhardt (Calculus), Liam Milbank (Statistics) and Beatrice Santos (Biology).
In total, 81 scholarships were awarded to MAGS' students, including nine at Outstanding level (the top 1% in each subject), the pinnacle of academic achievement for secondary students. Scholarships were attained across 21 subjects, and were spread among 54 students.
The Scholars' Assembly was also an occasion to recognise the school's academic achievers across NCEA Levels 1, 2 & 3 (Endorsed with Excellence), who were awarded Scholar Lions.
For full Scholarship and NCEA results, click here.