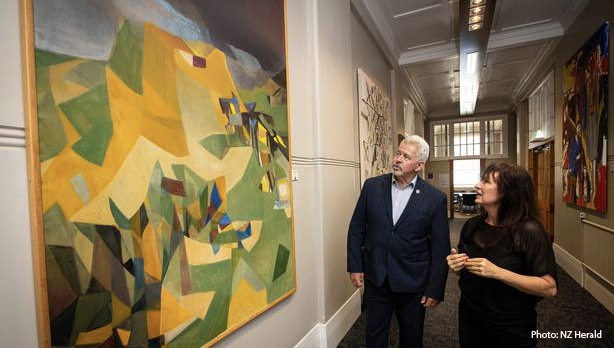 Another chapter has been written in the saga of the 'missing' Dame Louise Henderson painting April, which, until recently, was on display in the corridor of MAGS' main building.
The artwork was bought by Board of Trustees chair Greg Moyle in 2001 and forms part of the G J Moyle Collection on display around the school.
What Mr Moyle did not know was that curators from Auckland and Christchurch Art Galleries were on the lookout for April, part of The Twelve Months series by Dame Louise, whose work they wanted to display in the Louise Henderson: From Life exhibition
Auckland Art Gallery had secured 10 of the 12 large-scale paintings from The Twelve Months series painted by Dame Louise in the mid-1980s when she was 85.
The whereabouts of August were known but it cannot be displayed because it has been altered. But what had happened to April was a mystery – until the Auckland Art Gallery's secondary schools educator Luise Fong (pictured above with Mr Moyle) attended a function at MAGS last December and was taken on a tour of the school's G J Moyle Collection. Fong, herself an artist, was struck by the sight of one abstract painting, which at 2.5m high and 1.5m wide, resembled those in The Twelve Months series.
Once the art gallery confirmed the work's identity, arrangements began to be made to ship it to Christchurch for their exhibition as it was too late to be shown in Auckland.
Delays due to COVID-19 meant that April couldn't be shipped to Christchurch for the opening of the exhibition in late June, but this week it was finally installed as part of the series.
The image gallery below shows the painstaking procedure of getting the artwork safely shipped.
Image 1 – At 2.5m high and 1.5m wide April is too large to be fully crated – too heavy. So a travelling frame is custom built
Image 2 – Carla Purdue from Christchurch Art Gallery investigates every inch of the work, front and back to note any marks and/or damage and creates a Condition Report. This will be checked upon arrival at the art gallery and when returning to the school
Image 3 – To help prevent canvas movement during travel (potentially causing cracking of the oil paint, stretching the canvas or other impact damage) a backing board of corflute is attached to the back of the work by Sean Duxfield of Christchurch Art Gallery. This will also help to protect the canvas and offer some stability when it returns to the school. The corflute is attached to the wooden struts of the canvas and has to be carefully measured to fit. When the canvas stretcher built the canvas, the struts were not measured equally. A lot of time was spent ensuring the corflute sections fitted perfectly. This also occurred with the other works from the series The Twelve Months.
Image 4 – brackets that open out to 90 degrees are attached to the back of the work on the frame. Once opened they  can then be attached to the packing crate.
Image 5 – cloth stretchers are stretched over the front of the work to prevent the plastic from attaching itself to the artwork during its trip to Christchurch
Image 6 – the plastic is then wrapped around the artwork
Image 7 – the artwork goes into the truck to travel to Christchurch with some large Max Gimblett artworks
Image 8 – April installed with the other months (minus August)  in the series at Christchurch Art Gallery