Maria Tutaia inducted into Hall of Distinction
Wednesday, 15 October, was an historic day for Mount Albert Grammar School – our first former girl student, Silver Fern Maria Tutaia, was inducted into the Hall of Distinction.
In a moving ceremony filled with warmth and humour, Maria's citation was read by her coach from when she captained MAGS' first Premier Netball Team in 2004, Ms Te Aroha Keenan. Ms Keenan still oversees MAGS' netball programme, and the Netball Academy and Premier players, dressed in netball uniform, formed a guard of honour through which Maria entered and left the FW Gamble Hall.
The Hall was filled with Year 9 and Year 13 students, Maria's parents Sam and Niukini, sister Rina, former team-mates, coaches and friends, and the ceremony attended by the Chairman of the Board of Trustees, Mr Greg Moyle, President of the Albertians' Association Mr Ben Stallworthy, Headmaster Mr Dale Burden, Deputy Headmaster Mr Paul McKinley, Director of the MAGS Foundation Mr Tim Kay and former Headmaster Mr Greg Taylor.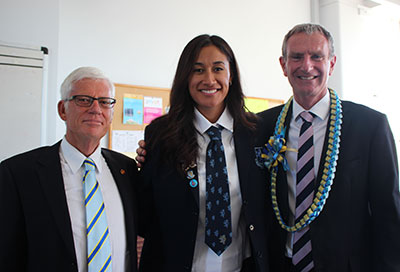 Maria spoke warmly of Mr Taylor, pictured at left with her and Mr Burden, and how he helped engender the values of acceptance and respect for which she remembers the school.
"He would chat to me every week about how netball was going," says Maria. "Taking the first Premier team to Nationals and coming fourth, when we had come from nowhere, is a memory I'll keep for my lifetime."
Maria wore a MAGS skirt, blazer and tie in honour of the school, and told the gathered students that they were privileged to attend what she considers the best school in the country.
"I wear this uniform on behalf of the dignitaries sitting on the stage with me, for the students who have come before us, some of whom have their names on the walls around you, and in honour of my family. This school has pride, respect and heart – it taught me to learn, strive and have a real crack. Mental toughness wins games, and in life you will face hardships and if you don't have mental toughness you won't succeed.
"Decide what grows you, serves you, and in the end makes you happy. If I can get my name on these boards there's no reason why any of you can't do the same. It's an honour to have my name forever a part of this school."