MAGS' Girls Futsal team have won the NZSS title for the fifth consecutive year after beating New Plymouth Girls High School 5-4 in the final in Wellington on Tuesday, 28 March, 2017.
The team once again progressed through the two-day tournament unbeaten, scoring 132 goals and conceding only 9. Grace Jale received the tournament's "Golden Boot" award.
Head of Football Mr Peter Smith said the MAGS team is an exceptional group. "They are disciplined, focused and stuck to our game plan through some tricky matches. When the going got tough they found another gear, and that kind of resilience and rise to the challenge is what makes champions."
Six of the girls who helped MAGS' First XI Football team to their fourth New Zealand title in a row were selected for the New Zealand Under 17 team to compete at the FIFA Under-17 World Cup in Jordan in October.
Pictured above at their NZ shirt presentation are, from, left, Nicole Mettam, 'Alosi Bloomfield, Malia Steinmetz, Grace Jale, Jacqui Hand and Samantha Tawharu. The girls were part of the same NZ Under 17 team which qualified New Zealand for the World Cup by winning the Oceania Championship in Rarotonga in January. The girls also went on a warm-up tour of China with the squad in July.
After losing their opening pool matches against Mexico 0-5 and Spain 0-2, the Kiwis finished their campaign on a high with a 5-0 win over hosts Jordan. MAGS' Samantha Tawharu scored two of the goals.
The win was only the second for a FIFA NZ Under 17 Women's World Cup team, the first being in 2008, and the 5-0 outcome is New Zealand's biggest ever win at any FIFA World Cup.

Four MAGS girls have been selected for the NZ Under 20 squad to compete at the FIFA Under 20 World Cup in Papua New Guinea from 13 November to 3 December.
Pictured above from left are Jacqui Hand, Grace Jale, Malia Steinmetz and Jade Parris, who completed Year 13 at MAGS last year.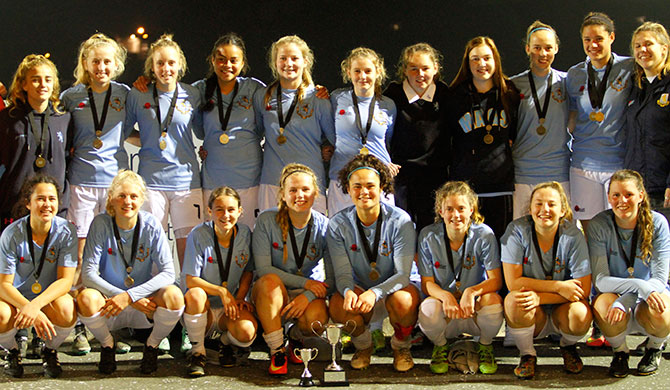 MAGS' First XI Girls Football team made it three in a row when they won the APC Knockout Cup at Seddon Fields on Wednesday, 17 August, beating Saint Kentigern College 5-0.
The team also won the trophy in 2014 and 2015. In July this year they won the Auckland League for the eighth year in a row when they beat Long Bay College 2-0.
The girls are now preparing to defend their New Zealand title at the National Tournament in September. They have won the NZSS championship for the past three years.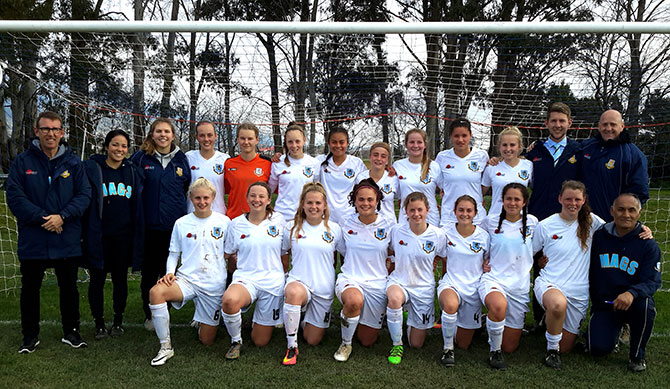 Read the Stuff.co.nz story here
Mount Albert Grammar's First XI Girls' Football team has become the first girls' team to win four consecutive New Zealand Championships after beating St Peter's Cambridge 6-0 in the final in Nelson on Friday, 2 September.
This once again secures a triple crown for the MAGS team, having also won the Auckland League and Auckland Knock-Out Cup, as they did in 2014 and 2015.
Headmaster Mr Patrick Drumm and Associate Principal Mr Paul McKinley were in Nelson to watch the girls do battle with the Cambridge school for the third year in a row, and again emerge victorious.
"The character of this team shone through from start to finish," said Mr Drumm. "They dominated every aspect of the match, and the Year 13 girls showed great leadership for the Juniors who were able to step up when asked."
Jacqui Hand scored a hat-trick, Captain Caitlin Pritchard scored a penalty and a goal, and Year 11 player Emma Fletcher also scored a goal.
The win was the best farewell our departing Year 13 players could have wished for – Caitlin, Jacqui, Isobel Douglas, Shania Heath, Grace Jale, Alicia Kennedy, Leah Mettam, Malia Steinmetz and Samantha Tawharu should feel extremely proud to have helped MAGS girls' football to such outstanding success during their years with the squad.