v St Peter's College 
November 4 and 11, at St Paul's College
MAGS wins by 15 runs
Adithya Ashok 4/25, Matt Kelsall 2/20, Josh Oliver 2/22
Andrew Munroe 45*, Nathan Cook 22, Caleb Cherrie 21
Day 1 
On arrival at St Paul's College in Ponsonby, the grass was ankle high and patches of mowed dead brown grass littered the field. It resembled a dairy farm. Sadly the weather gods were not on our side for the second week running so the day's play was abandoned due to heavy rain.
Day 2
Day 2 became a 50 over game. The ground had some TLC during the week with a St Peter's parent mowing the ground himself and removing some dead grass. The farmland now looked more like a cricket field.
With St Peter's winning the toss they decided to put us in to bat, with Nathan Cook and Adithya Ashok opening. Cook was explosive at the start, smashing a quick 22 runs off 11 balls before he was caught at long on trying to clear the boundary. Maximus Soares came to the crease and struggled to score on a slow pitch and long grass that did not reward stroke play.  Adi was bowled for 8 off 43 balls, Max ran himself out and then Jesse Gage was caught prematurely off a leading edge.  Caleb Cherry came to the crease and played positively and aggressively, hitting some nice straight boundaries before he hit one straight to long off where he was caught for 21.  Andrew Munro patiently held one end and was 5 off 40 odd balls before he decided to move things forward. Andrew strongly drove and smashed the ball down the ground both on the ground and in the air.
While wickets regularly fell at the other end, Andrew took his score to 45 and the team to 152 before MAGS were bowled out in the 44th over.
After lunch Josh Oliver and Matt Kelsall got off to a good bowling start putting early pressure on the openers. In the 11th over Kelsall struck, removing the first St Peter's opener LBW. There was a good second wicket partnership and at 72 for 1, things looked grim for MAGS, but after the other opener Tom Drumm was caught by Jesse Gage off Adi at short mid wicket, things started to turn and St Peter's got  the wobbles. Adi bowled consistently well and kept the batsman guessing as to which way the ball was going to turn with a superb bowling display, taking 4 wickets. Kelsall also had an outstanding day with a consistent display of accurate line and length bowling taking 2 wickets.  Caleb bowled well and MAGS built pressure. St Peters regularly lost wickets and required 16 runs with 1 wicket remaining.  St Peter's number 3 Lucas Dasent could not resist Alec Shackleton, moving down the wicket, missing the ball and was stumped by Kush Warule. St Peter's was all out for 137, a great win by MAGS.
MAGS' First XI Boys Cricket team came out on top of a rain-affected Auckland T20 Championship for 2017.
As the leading team in the competition after round robin play and with the final being washed out, MAGS were crowned Auckland T20 Champions in Term 1.
"It's not the way we would like to have won, but in a season where weather played a significant role in all competiton, we were the only unbeaten side," said Director of Cricket Mr Tony Sail. "We won over One-Day semi-finalists Westlake Boys High School, and the One-Day Champions Rosmini College, as well as Rangitoto College in round robin play. There was no reason to think that our winning streak would not continue into the final."
Caleb Cherrie was the most influential batsman for MAGS with two match winning innings. Jesse Gage and Maximus Soares also made timely contributions.
Alec Shackleton, Daniel Watson, Katene Clarke, Andrew Munro and Adithya Ashok all had significant spells with the ball.
The teams selected for the 2017 season are as follows:
First XI: Katene Clark (C), Andrew Munro (VC), Adithya Ashok, Caleb Cherrie, Nathan Cook, Jesse Gage, Matthew Kelsall, Josh Oliver, Aue Parima, Luke Pille, Alec Shackleton, Maximus Soares, Daniel Watson, Kush Warule, Coach: Mr Tony Sail, Manager: Ms Lisa Holden
Second XI Training Squad (three players to be rested or with Third XI or club team each Saturday): Shane Antia, Darian Brook, Matthew Currie, Brodie Fogarty, Taher Ismail, Matthew Henderson, Matthew Kelsall, Brooklyn Lee-Sang, Eamon Sadler, Ben Seavill, Uday Sharma, Liam Thompson, Harry Thurman, George Wynn. Coach: Mr Brett Sorrenson, Assistant Coach: Mr J Brook
Colts: Daniel Askew, Oscar Burke, Jayden Daya, Max Douglas, Zack Edgerton, Archie Gothard, Flynn O'Loughlin, Umang Patel, Keertivaasan Prakash, Tafatolu Sala, Archie Shaw, Mohinder Suri. Coaches: Mr Dean Edgerton and Mr Dean Askew. Manager: Mr Chris DeLatour

Enquiries to Head of Cricket, Mr Tony Sail, [email protected] Ph 021 425 244
Year 13 cricketers Tariel Lamb and Fraser Campbell have been awarded prestigious scholarships to aid their tertiary studies and cricket careers.
Tariel, pictured left and above with MAGS' Head of Cricket Mr Tony Sail, has been named as this year's recipient of the Cornwall Cricket Club Crowe Family Scholarship, awarding her $15,000 towards her university fees. The Scholarship was established last year in recognition of the Crowe family and their contribution to cricket and the Cornwall Cricket Club. Its purpose is to support an outstanding all-rounder to study at the University of Auckland, play cricket for the Cornwall Cricket Club and to contribute to both the club and the wider community. The inaugural recipient last year was another MAGS player, Aniket Parikh.
Tariel plans to study Law and Commerce at Auckland University between playing for the Auckland Under 18 and Under 20 sides, the Development squad for the Auckland Hearts women's team, and with Cornwall Club's Premier Women's side.
Tariel, who has Captained MAGS' Girls First XI for the past three years, says her dream is to one day represent New Zealand with the White Ferns.
Fraser has received a Sports Scholarship from Lincoln University that will cover all the tuition fees of his chosen degree of a Bachelor of Science specialising in Ecology and Conservation. Fraser will be part of Lincoln's Cricket Academy and partnered with a Christchurch club side. Lincoln is the base of NZ Cricket's High Performance Centre so Fraser, a talented all-rounder, will have access to its facilities and services and gain exposure to selectors as he pursues his bid to one day play for the Black Caps.
Head of Cricket Mr Tony Sail says Tariel and Fraser are well deserving of the scholarships. "Tariel has done a huge amount for girls' cricket at MAGS through organisation, administration and leadership. She also has a very good academic record – her work ethic is amazing.
"Fraser is an outstanding athlete; one of the best batters in Auckland whose performance in the semi-final of the Gillette Cup in Term 1 was instrumental in us making the final. He has his best cricket still ahead of him – by the time he finishes Lincoln I'm expecting him to be playing at first class level."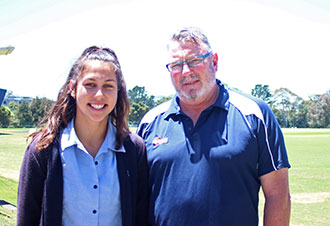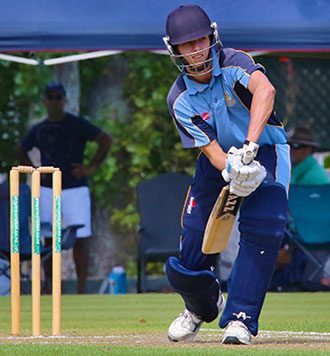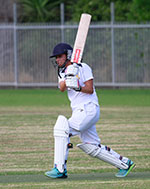 The First XI Boys' Cricket tour of England, Belgium and France was a great success – the boys won 12 out of 14 matches, and also gained a lot from visiting sites of historical significance.
The three week tour ran from June 28-July 19. Fifteen boys from Years 12 and 13 were accompanied by Head of Cricket Mr Tony Sail, teacher and coach Mr Brett Sorrenson, and manager Mr Paul Donnell. Mr Sail said the trip was aimed at not only developing the boys as cricketers, but also as young men.
The team played three games in Belgium, one in Paris and the remainder in England against schools, clubs and invitation teams. A highlight was becoming the first international team to play against a side representing the historic Marylebone Cricket Club, at the 'cradle of cricket' – Hambledon in Surrey. Another was training at and touring Lord's cricket ground in London. The team also helped host an Albertians' reunion in London.
In Europe, the team also visited historic sites, including war graves at Ypers and Passchendaele, and perform a wreath-laying ceremony at the Menin Gate.
Mr Sail said the boys were outstanding ambassadors for MAGS both on and off the pitch. "They were complimented on their presentation and behaviour wherever they went – it was the best tour I've taken."
He thanked the team's sponsors, Blueprint Diesel and Resene, and the supporters who had contributed to fundraising.
v Sacred Heart College
October 21 and 28, at MAGS
Draw due to weather
Daniel Watson 2/20, Caleb Cherrie 2/27
Nathan Cook 39*, Jesse Gage 24
Day 1
The first round of the 2-day competition was a home game for MAGS playing Sacred Heart.
Sacred Heart won the toss and elected to bat first. Daniel Watson & Josh Oliver opened the bowling with the first wicket falling at 21, with Nathan Cook catching the opener at point off the bowling of Josh Oliver.  Two balls later the 2nd wicket went down to Watson, caught behind by the wicketkeeper Kush Warule.  Sacred Heart then picked up the momentum with a good third wicket partnership, going on to score 223 being bowled out after 82 overs.
There were some good bowling performances with both Caleb and Adi bowling 6 maidens and a wicket maiden each,  and Alec close behind with 5 maidens including one wicket maiden.
Nathan Cook and Luke Pille opened the batting with Pille caught behind early on. Adi was bowled a short time later for 3 and at 23/2  things were delicately balanced from a batting perspective . Jesse Gage came to the crease and built a 49 partnership with Cook before he was caught for 24 at first slip.  Cook anchored the batting with a display of aggressive stroke play off the short ball and some great stroke play off the fuller deliveries. He finished the day on 39 not out with Caleb Cherrie not out at the other end facing a handful of deliveries at the close of play.
Day 2
Unfortunately the weather took a turn for the worse and Day 2 was called off without the need for the teams to come to the ground. The game was declared a draw.