BYOD for Years 9, 10 and 11 in 2017

Welcome to BYOD in 2017
Please feel free to e-mail me if these BYOD pages do not answer your queries.
Regards
Elise Goddard (Mrs)
Director of E-Learning: egoddard@mags.school.nz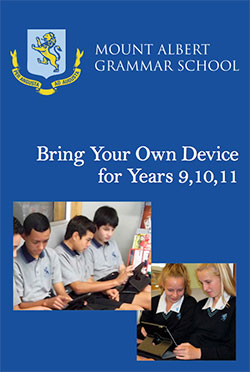 In 2015, Mount Albert Grammar School began its official introduction of BYOD. It is now mandatory for every Year 9 and 10 student to bring a computing device (tablet or computer). In 2017, students in Years 9, 10 and 11 are expected to bring a device.
The school conducted a thorough professional development programme in 2014 in order to ensure that teachers will be ready to incorporate the use of personal devices in their programmes.
The staff at Mount Albert Grammar School are extremely excited at the possibilities that will come with BYOD.
Year 9, 10 and 11 students are asked to bring a device with the ability to:
access the school wireless (Wireless 802.11 is an industry standard)
access the internet and therefore also send and receive-mail
voice record
capture images and videos
take notes
The device must have sufficient battery life to last the school day. Charging will not be available at the school. Students will return to pen and paper if their device needs recharging.
Due to the number of typed NCEA assignments required in year 11 courses, a keyboard is recommended for the iPad for year 11 students. If buying a new device for year 11, then a laptop (Windows or Macbook) will be a better option for some students, especially those who wish to use Adobe Creative Cloud for Photography, Art Design and Media Studies.
Brochure for Years 9,10 & 11 BYOD
If this device is a tablet, then the screen needs to be at least (7.9″) in diameter and the device needs at least 16GB storage, but at least 32GB is now recommended. The device does not have to be a tablet. Laptops with at least 4GB of RAM and a 160GB hard drive may suit some students better. Larger laptops are often not suitable, as they often have a shorter battery life. Please note also that Chromebooks may be used, but they allow access to only online versions of key software like Microsoft OneNote.
Smartphones are not considered as a suitable main device in the BYOD programme, but can be used in class for educational purposes with teacher approval.
The iPad: Our Device of Choice
Our recommended devices for students are the iPad2 or later or the iPad Mini for the following reasons:
Instant on and off capability
High-quality touch-screen functionality
Good device speed
Excellent wireless connectivity
Long battery life
Robust if in a strong case
Free top-class software now included that all help with productivity: Pages, Numbers, Keynote, iMovie, iPhoto, Garageband
Ability to display interactive books created in iBooks author
Excellent education apps (not the prime focus, but relevant)
Compatibility and connectivity with the school's Mac desktop computers.
From the professional development, teachers will be most familiar with the iPad
The ability to play interactive iBooks created on the school's iMac computers using iBooks author.
Please note that the iPad and Macbooks have the ability to use the full interactive functionality of an iBook, whereas other devices will need to access the more simple pdf version. All information will be present in the pdf version.
Please note also that the school is making increasing use of Microsoft OneNote which now has drawing capability for iPads and other tablets.
Discount Pricing for BYOD and Other Deals
Some options for buying at discounted prices may be found here.
Research and Inquiry into BYOD
Click here for some useful case studies about the implementation of BYOD.